The Robersonville Library is offering games for children ages 7 and up each Thursday from 3:30 p.m. to 4:30 p.m. Volunteers say they are starting out with checkers and adding other games as they go. Carter Leggett, a student at South Creek Elementary School is pictured with Debbie Gray, a retired Martin County Schools teacher and the Children's Programming Coordinator at the Robersonville Public Library.

Tomorrow is Rally in "red" and "Sock-it" to Drugs! Students can wear a red shirt with crazy socks. Uniform bottoms are required.


Next week!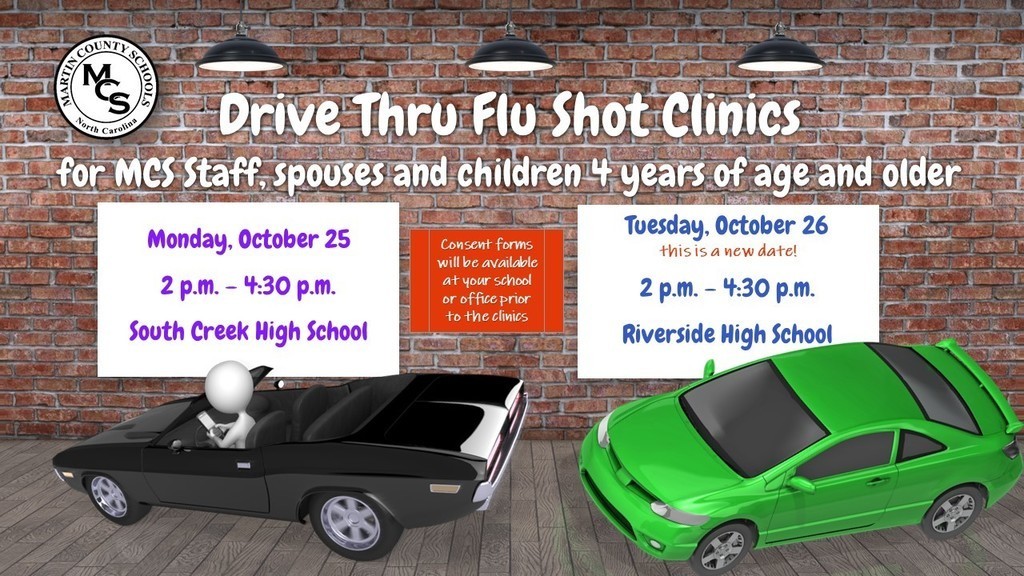 Don't forget that wear orange tomorrow for Unity Day! Uniform bottoms are still required.

.From the National Weather Service AREAS OF DENSE FOG ACROSS EASTERN NORTH CAROLINA THIS MORNING...Areas of fog as developed across Eastern North Carolina this morning reducing visibilities to one half mile or less at times. Motorists should remain alert for a rapidly changing visibilities over short distances. When encountering the dense fog, slow down, use low beam headlights, and leave plenty of braking distance between you and the vehicle ahead. Visibilities are expected to improve between 8 and 9 AM as the fog begins to lift and dissipate.

MCS Team Mark your calendars!

Our final stop on the Community Listening tour will be tomorrow night (Thursday, Oct. 14) at Riverside Middle School. We thank everyone who has come out to be a part of our initial strategic planning efforts and hope others will come out tomorrow night. See you at Riverside Middle School. The meeting begins at 6:30 p.m.

Important Bus Message

Please be advised that bus 195 and bus 208 will be running approximately 15 min earlier for the remainder of the week. This is due to combining 217 morning routes - therefore, bus 217 will not run until further notice.

8:15 am Phone and Internet service has been restored to MCS campuses and offices. Thank you for your patience.

7:30 am Monday Martin County Schools is currently experiencing phone and Internet outages throughout the district. Our Technology Team has been working on the issue since early this morning. We will update you when the issue has been resolved. Thank you for your patience.

Thanks to Mr. William Peele and Peele Graphics for providing biscuits this morning! We are greatly appreciative of your support!

Thanks to everyone that attended parent/teacher conferences. It is always great to see our parents and communication is the key to success! Have a great weekend!

Just a friendly reminder that there is no school on Thursday or Friday for students. Parent/Teacher conferences will be held on Thursday from 4:00-7:00 and Friday from 8:00-12:00.

SMILE -- Tomorrow, Oct. 6 is picture day. Students may wear an outfit of their choice as long as it is school appropriate. Proofs will be sent home and there is NO MONEY needed.

Community Listening Meeting will be held at Rodgers Elementary tonight at 6:30 in our multi-purpose room. We look forward to seeing you!

Bus 217 will not run Tuesday or Wednesday morning. IF you are unable to provide transporation for your child(ren), please contact the school so arrangments can be made. This bus will run in the afternoon both days. Thanks for you patience.