NEWS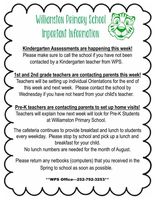 Please contact the school if you have any questions about next week. The School's phone number is 252-792-3253...
North Carolina has been approved by the USDA to participate in the Pandemic-Electronic Benefits Transfer (P-EBT) program. For children who participate in a school meal program, each family will...
SEE ALL NEWS
LIVE FEED
Williamston Primary School Updates: Kindergarten Assessments are happening this week.  Please make sure to call the school if you have not been contacted by a Kindergarten teacher from WPS.   1st and 2nd grade teachers are contacting parents this week and setting up individual Orientations for the end of this week and next week.  Please contact the school by Wednesday if you have not heard from your child's teacher.   Pre-K teachers are contacting parents to set up home visits and explain how next week will look for Pre-K Students at Williamston Primary School.   The cafeteria continues to provide breakfast and lunch to students every weekday.  Please stop by school and pick up a lunch and breakfast for your child.  No lunch numbers are needed for the month of August. Please return any netbooks (computers) that you received in the Spring to school as soon as possible.   Be Safe!
This is a message from Martin County Schools. Please know that the Martin County Board of Education voted last night for students and staff to begin the school year with remote instruction for the first 9 weeks. The board's decision was based on many factors related to COVID-19, survey results, and safety protocols that need to be put in place for students and staff. Martin County Schools is committed to serving all students and providing the best education possible. On August 17th all students will begin the school year with remote instruction. All students will be provided with a computer (if needed) and Martin County Schools will work to help provide better access to internet connectivity. Martin County Schools will provide remote instruction guidance for students and parents. Students will be required to work online with teachers and complete assignments. All work will be graded and will count toward the students overall average. The board's decision for remote instruction was based on safety for all. We ask for your support and understanding of this decision and hope that you and your children will work with our staff during this remote instruction time period. Between now and Tuesday July, 28th schools will be contacting all students and parents to help determine the individual and district technology needs. You may also complete this information online at: https://bit.ly/MCS2021 https://bit.ly/MCS2021 Again, thank you for your cooperation and understanding. Working together we can make a difference.
24 days ago |
Riverside High School
Martin County Schools Board of Education had a special meeting to discuss the opening of school on July 21st. MCS decided to go with "Plan C" (Completely Virtual) for the first 9 weeks of the 2020-2021 school year. Your child's teachers and other WPS staff will be making phone calls to parents to give updates and check on our children. Please hang in there. We miss our Tiger Cubs and know that we will do whatever we have to do to support parents and children! Thank you for supporting WPS!
24 days ago |
Riverside High School
Williamston Primary will begin feeding students again on July 6, 2020. Breakfast will be available from 8-9 in the morning and lunch will served from 11:30-12:45.
about 1 month ago |
Jason Myers
SEE ALL POSTS
Events