NEWS
Don't forget the Friends of Martin Memorial Library book sale this weekend. Thursday through Sunday at Martin Memorial Library, 200 N. Smithwick Street, Williamston. The proceeds will help pay for...
MCS will sponsor an Autism and Transition Fair for students with disabilities and their parents tomorrow, April 4, 2019. The event will be held at the Riverside High School cafeteria from 5-7 pm.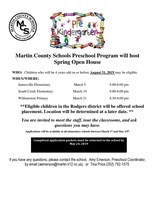 If your child will be 4 on or before August 31, 2019, they may be eligible for Martin County School's Pre-Kindergarten program. Applications will be available beginning March 1, 2019.
SEE ALL NEWS
LIVE FEED

Triple P and Martin County Schools (for all parents) December 18th, 6-7 pm at Riverside Middle School
6 months ago |
Student Services

Toys for Tots and Martin County Schools Please donate to our T4T campaign through December 10th. For more information contact Clay Wagner at 252-809-4179 view image
7 months ago |
Student Services

Triple P and Martin County Schools (for all parents) December 4th, 6-7 pm at Riverside Middle School
7 months ago |
Student Services

Triple P and Martin County Schools : November 13, 2018 6-7 pm Riverside Middle School 6-7 pm
7 months ago |
Misty Rushing
SEE ALL POSTS
Events