NEWS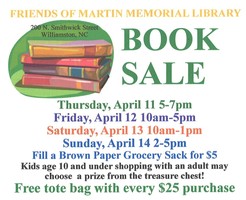 Don't forget the Friends of Martin Memorial Library book sale this weekend. Thursday through Sunday at Martin Memorial Library, 200 N. Smithwick Street, Williamston. The proceeds will help pay for...
MCS will sponsor an Autism and Transition Fair for students with disabilities and their parents tomorrow, April 4, 2019. The event will be held at the Riverside High School cafeteria from 5-7 pm.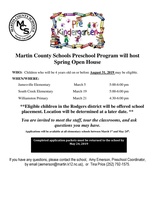 If your child will be 4 on or before August 31, 2019, they may be eligible for Martin County School's Pre-Kindergarten program. Applications will be available beginning March 1, 2019.
SEE ALL NEWS
LIVE FEED

I just want to say THANKS to all participants of yesterday's district-wide safety exercises! You conducted yourselves with great professionalism the entire day. I also want to thank all the law enforcement, EMS, and fire officials on hand to support our schools. You all rock!!
1 day ago |
Martin Co. School District

All Martin County Schools staff will be involved in a system-wide safety drill tomorrow, August 15, 2019. School staff along with law enforcement, fire, and EMS agencies will be reviewing and practicing safety procedures and protocols. This is only a drill and neither personnel nor school property is under any actual threat. Thank you for your understanding.
3 days ago |
Martin Co. School District
EOG Schedule: Wed. May 29 - 3rd & 5th Reading, 4th Math Thur. May 30 - 3rd & 5th Math, 4th Reading Tues. June 4 - 5th Science & 3rd RtA
3 months ago |
Jan Wagner
Diaper Drive - SCES Is supporting Moms and babies in Martin County. We have a collection box for diapers in our main office and will continue to collect until May 31st. New and opened boxes of diapers are accepted. Please help out if you can.
4 months ago |
Jan Wagner
SEE ALL POSTS