NEWS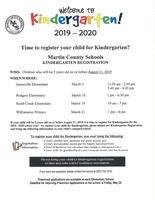 If your student will be 5 on or before August 29, 2019, it's time to register them for Kindergarten!
Kindergarten - Haislip: Reading RL.K.1 With prompting and support, ask and answer questions about details in a text.RL.K.2 With prompting and support, retell familiar stories, including key details.R...
2nd Grade - Bryant, Hart, Stokes: Reading - 2.RL.2 (identifying and explaining the lesson of a story) Math - MD 5/OA1 (word problems using measurement) Bullock Reading - RI 1.2 (Identify the main ...
SEE ALL NEWS
LIVE FEED

Triple P and Martin County Schools (for all parents) December 18th, 6-7 pm at Riverside Middle School
2 months ago |
Student Services
Prayers answered..... after only 6 hours... the superhero is out of surgery! Thanks for all the support, prayers and Black-out for Colden!!!! view image
2 months ago |
Shannon Cecil
MCS will operate on a 2 hour delay on Tuesday, December 11th. As a result, our tardy bell will ring at 9:30.
2 months ago |
Shannon Cecil

Toys for Tots and Martin County Schools Please donate to our T4T campaign through December 10th. For more information contact Clay Wagner at 252-809-4179 view image
3 months ago |
Student Services
SEE ALL POSTS