Science Night - Tuesday, April 16th @ 6:30pm at the SCES Gym. Fun science activities for the whole family with take homes for kids. Refreshments will be served. Hope to see you there.
All students need headphones or ear buds for iReady math and reading lessons and testing. Please make sure that your child is prepared with headphones or ear buds on Monday, April 8.
Please be aware that the PBIS skating trip originally scheduled for Thursday, March 21 has been postponed. We will get more information out to you as soon as we can.
Monday, March 18: NO SCHOOL - Teacher Workday
Tomorrow, Thursday, March 7th we will be taking spring pictures. Students may wear regular clothes that meet the Martin County dress code. Students who wish to purchase a class picture will need to have $16.05 cash or check. We will not be able to make change. Also, this Friday March 8th is an early release day with a 12:50 dismissal.
Wright Flight Parent Program for 5th grade parents.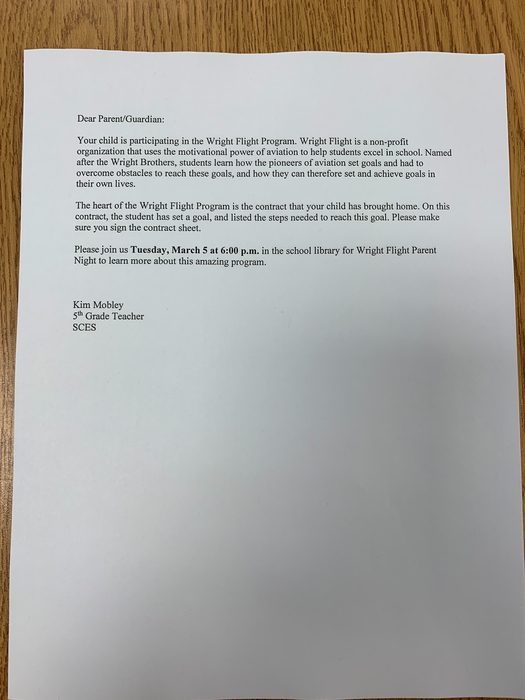 This week we are celebrating Read Across America Week and Dr. Seuss' Birthday. Tomorrow is Green Eggs and Ham day, so wear your green.
Upcoming FAMILY NIGHT!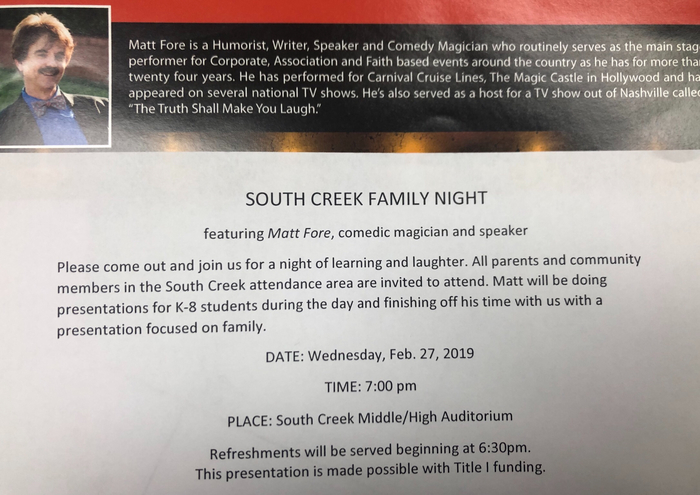 Kindergarten Registration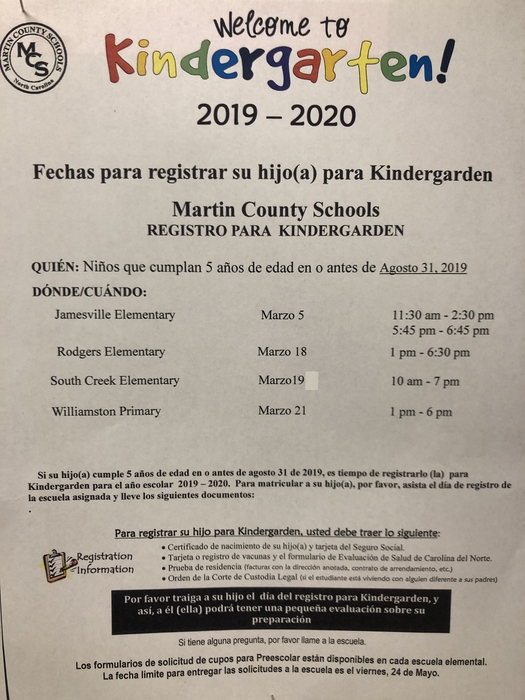 Pre K Open House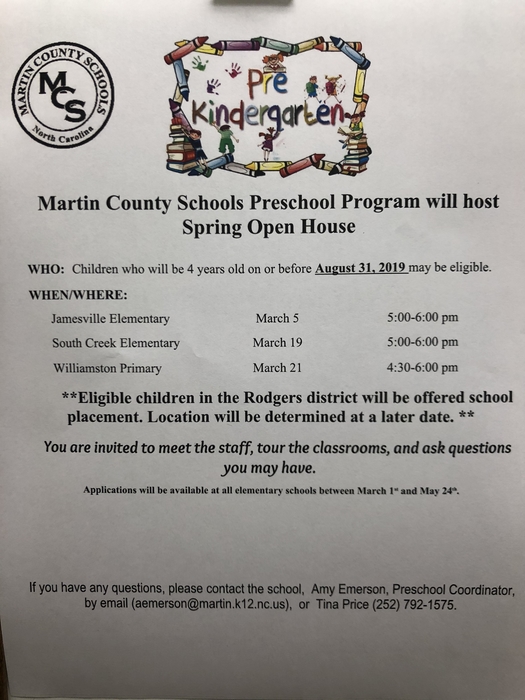 American Heart Association Jump Rope for Heart fundraiser ends on Friday, Feb. 22, 2019. All money should be turned in by then.
Looking Ahead at SCES! Friday, Feb. 15, 2019: NO SCHOOL - Teacher Workday Monday, Feb. 18, 2019: NO SCHOOL - Presidents' Day
SCES lock down drill has been postponed until the week of January 21st.
Calendar Reminders: Thursday 1/17: No school - Teacher Workday Friday 1/18: No school - Teacher Workday Monday 1/21: No school - Martin Luther King , Jr Holiday
Triple P Parent Meeting - Tuesday, Jan. 8th 6-7pm in the Media Center. This is open to all parents.

Triple P and Martin County Schools (for all parents) December 18th, 6-7 pm at Riverside Middle School
Black Out Thursday in honor of Colden, a fifth grade student from Jamesville Elementary. All students and staff are Asked to wear black shirts to school on Thursday, Dec. 13.
House of Refuge tutoring students will not attend tutoring until late in January.
EARLY RELEASE THURSDAY, DEC 13, 2018 Due to the Hamilton Christmas Parade Bus Riders will be dismissed at 2:30pm and Car Riders will be dismissed at 2:35pm. Please make sure that someone is home to receive your child or that someone who is authorized to do so picks up your child.
TWO HOUR DELAY - TUESDAY, DEC 11 Car Riders may be dropped off no earlier than 9:25am Breakfast will not be served