Weekly Announcements 3/26/23 Monday, March 27th Remote day for students/Optional Workday for teachers Kindergarten registration Tuesday, March 28th 9am-6pm Media Center Pre-K Open House March 28th 3:15-6pm Upcoming dates: March 27 Remote Day for students 28 Progress Reports Go Home 30 PTA Meeting 6:30 pm April 7 Remote Day for students 10-14 Easter Holiday Break School Closed 21 Early Release 12 pm 25 5th Grading Period Ends 27 6th Grading Period Begins; Parents Night Jamesville Ballpark time TBA Thanks for your continued support of JES-Home of the Happy Herringbone! Title 1 School
Spring Pictures March 22, 2023 Pre-paid pictures We will only take pictures of the students that have already paid online or have money in hand.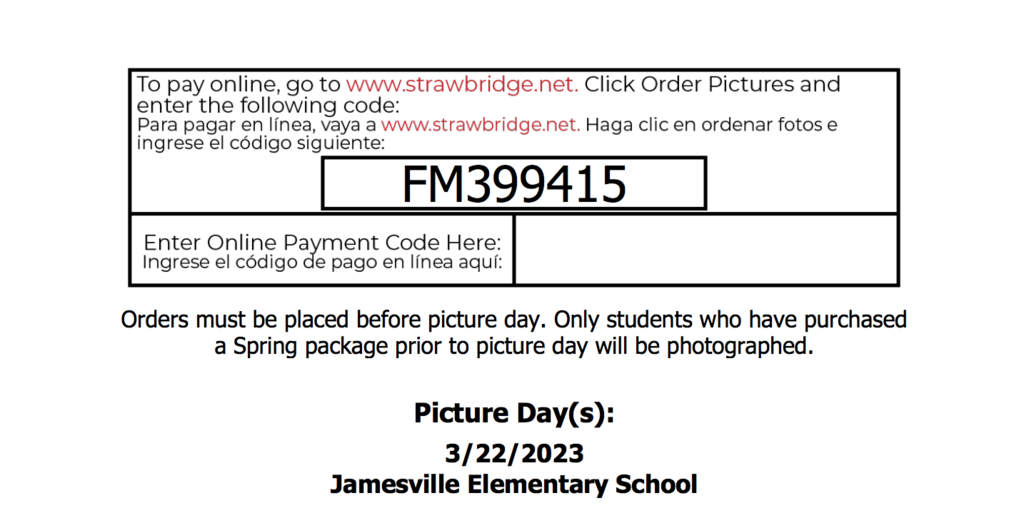 Spring Pictures March 22, 2023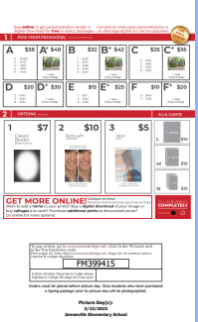 Ms. Kassie's bus 190 is running about 20 minutes late this morning. We apologize for any in inconvenience.

Just a reminder! Kindergarten registration is just around the corner. ¡Sólo un recordatorio! La inscripción en el jardín de infantes está a la vuelta de la esquina.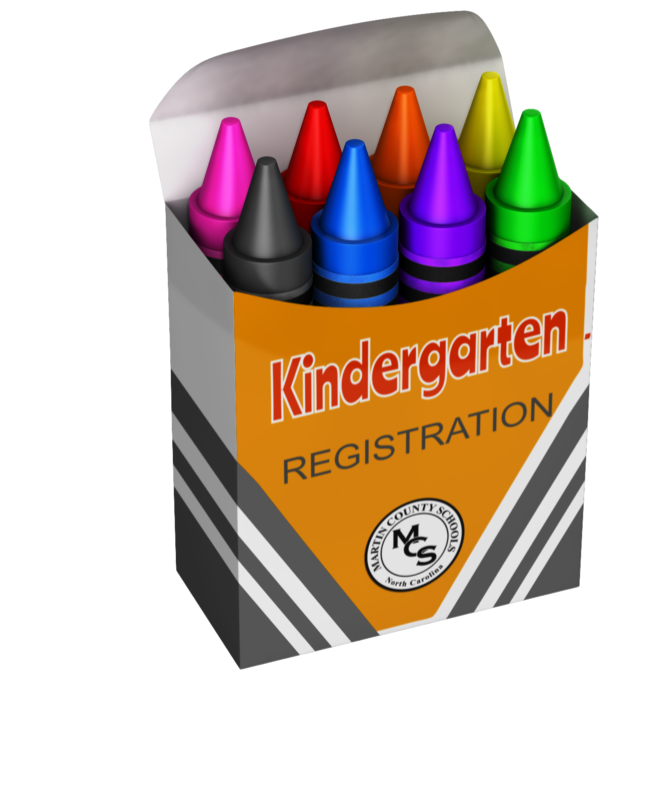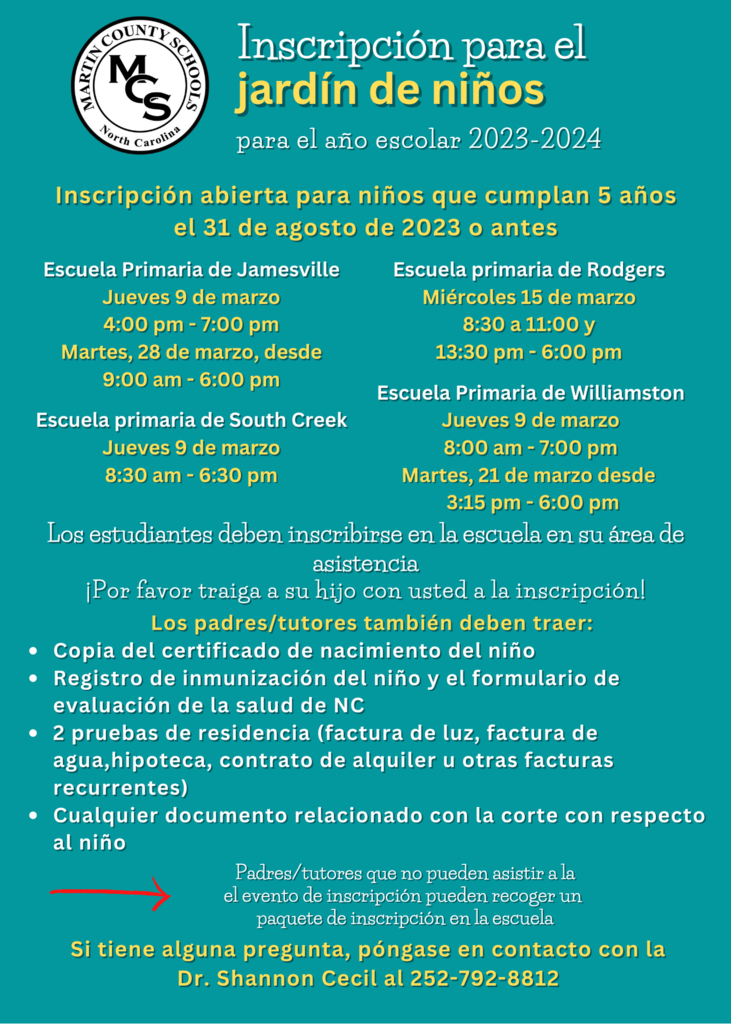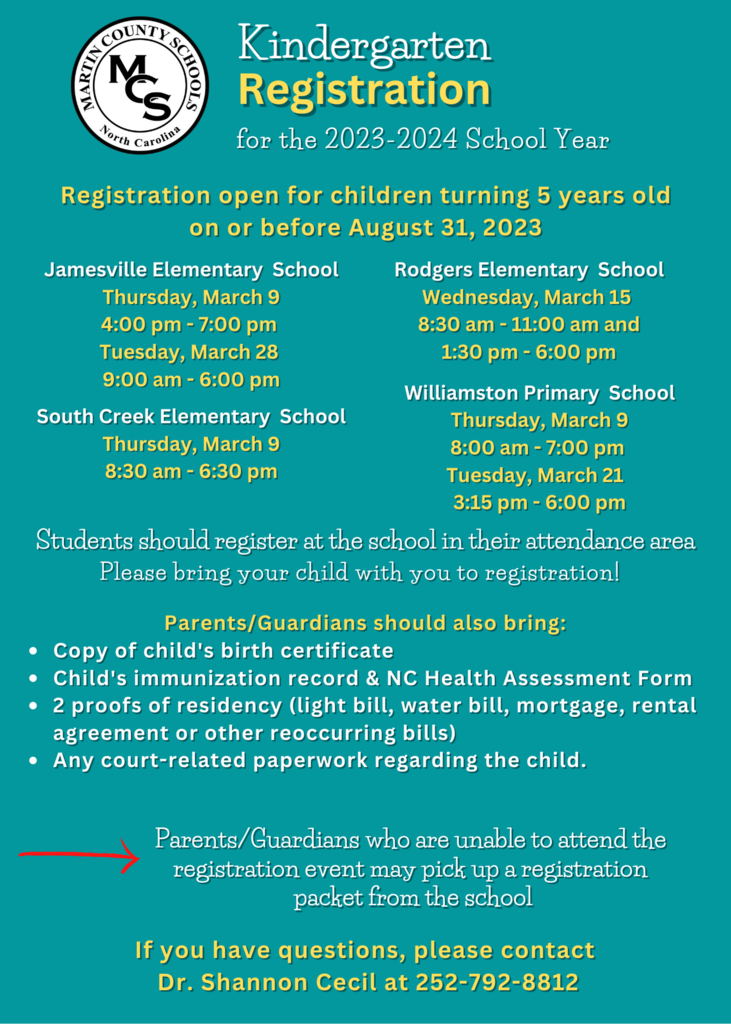 Just a reminder. School menus are posted each month at
www.mcscafe.com
Sólo un recordatorio. Los menús escolares se publican cada mes en
www.mcscafe.com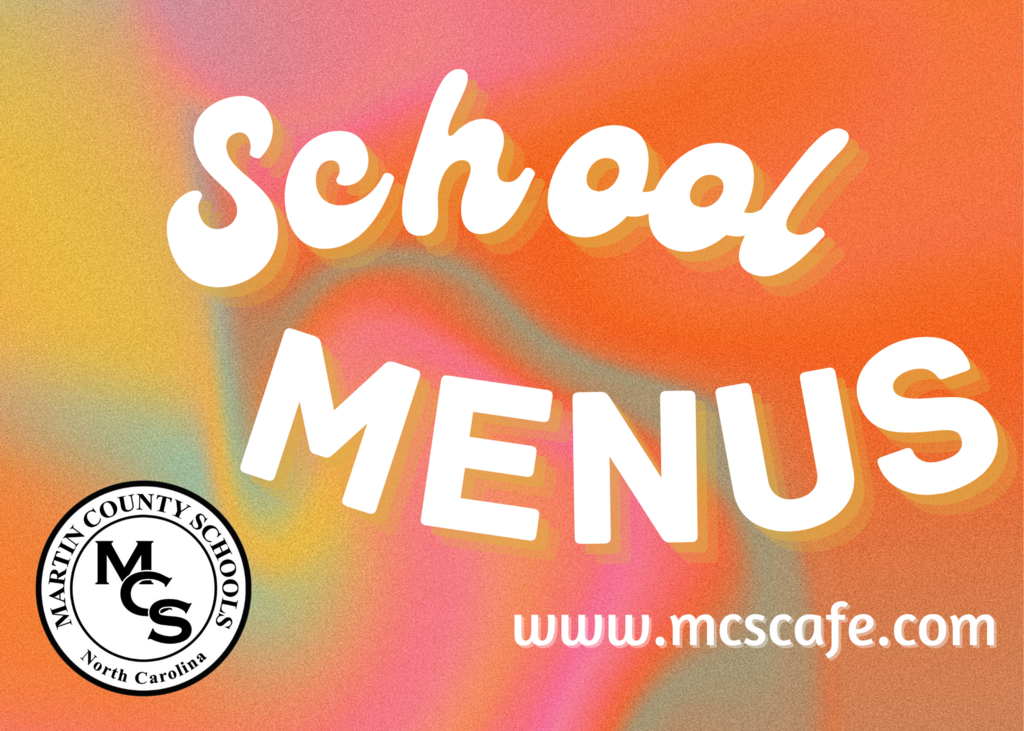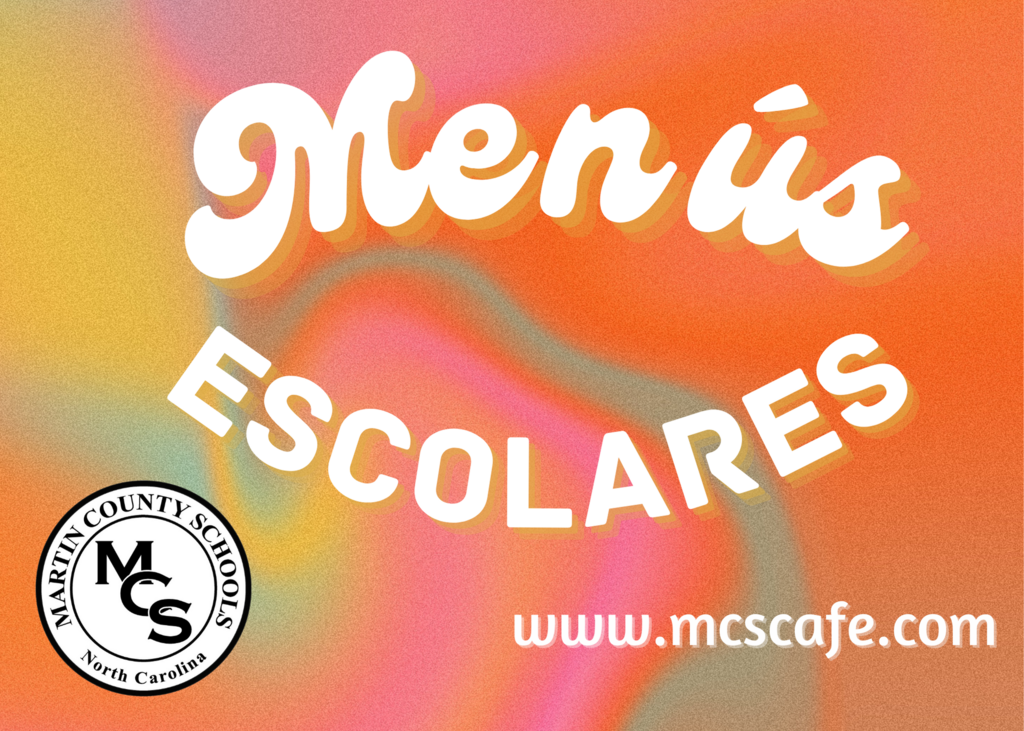 Please come out and support the Riverside High School Band's Annual Pancake Supper tonight from 5-8 pm! Tickets are $8. We will have all you can eat pancakes in the cafeteria and a drive thru in the bus parking lot for to go plates. We hope to see you there! JES students will be celebrating 101 days of school. We will dressing up like Dalmatians! Watch out for Cruella!
Weekly Announcements 2/5/23 Friday, Feb 10th will be the 101st day of school. We are asking all staff and students to dress as dalmatians (white puppies with black spots). Let's see how many puppies we can fit in the cafeteria. Watch out for Cruella! February 13-17th LOVE the BUS week. Help us honor Mr. Moore, Ms. Kassie and Ms. Moore. Feb 17th 3rd grade will attend an MC Arts Council sponsored performance at MC auditorium. Book Fair Feb 20-24; Parent Night Feb 23rd 3:30-6 pm JES will participate in Read Across America activities Feb 27-March 2. Our Character Parade will be March 2nd, Dr Seuss' birthday. March 17th PTA St Patrick's Day Dance! JES students only. $5 admission Spring Pictures March 22nd
Just a reminder: Monday, January 23rd is a mandatory teacher workday and no school for students.


Important Update on COVID Tests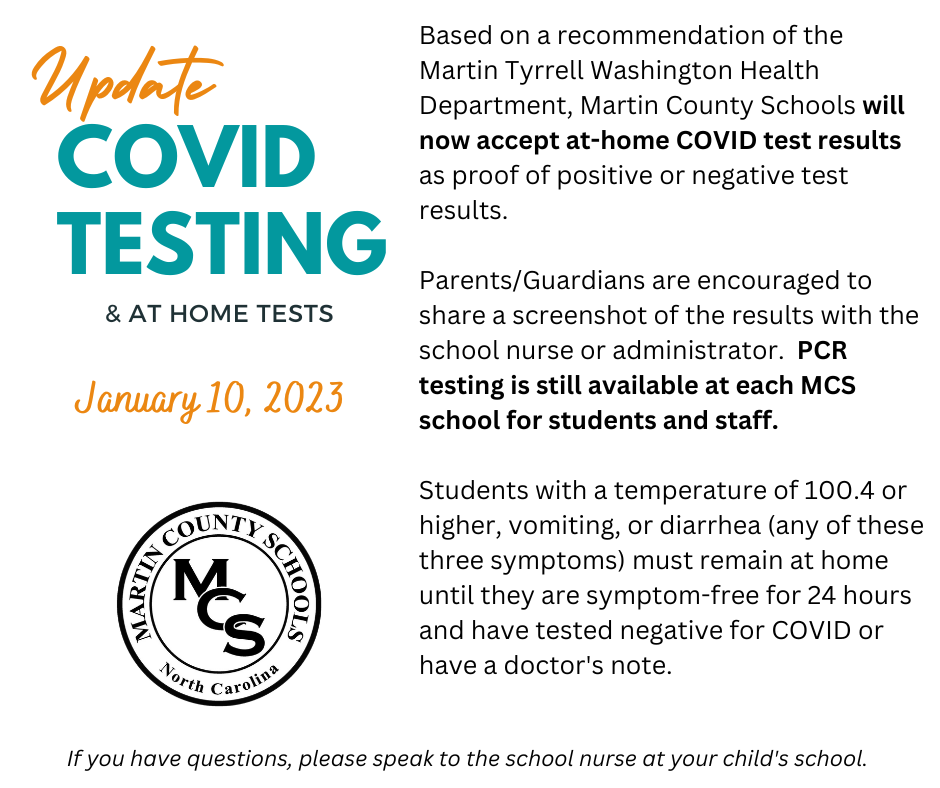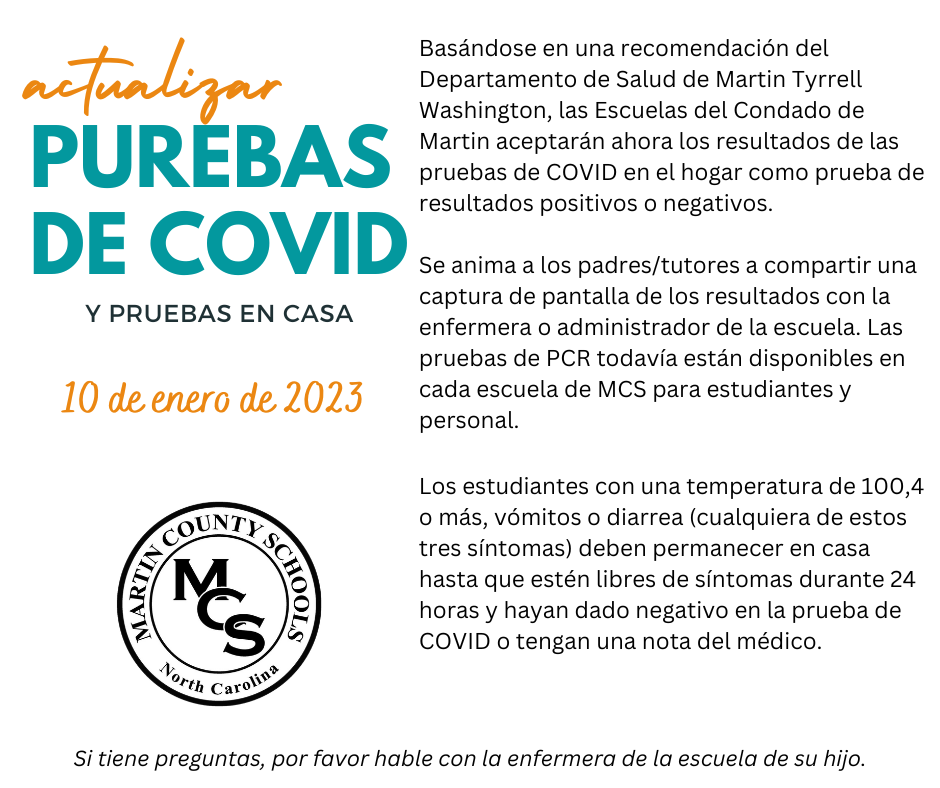 January Menu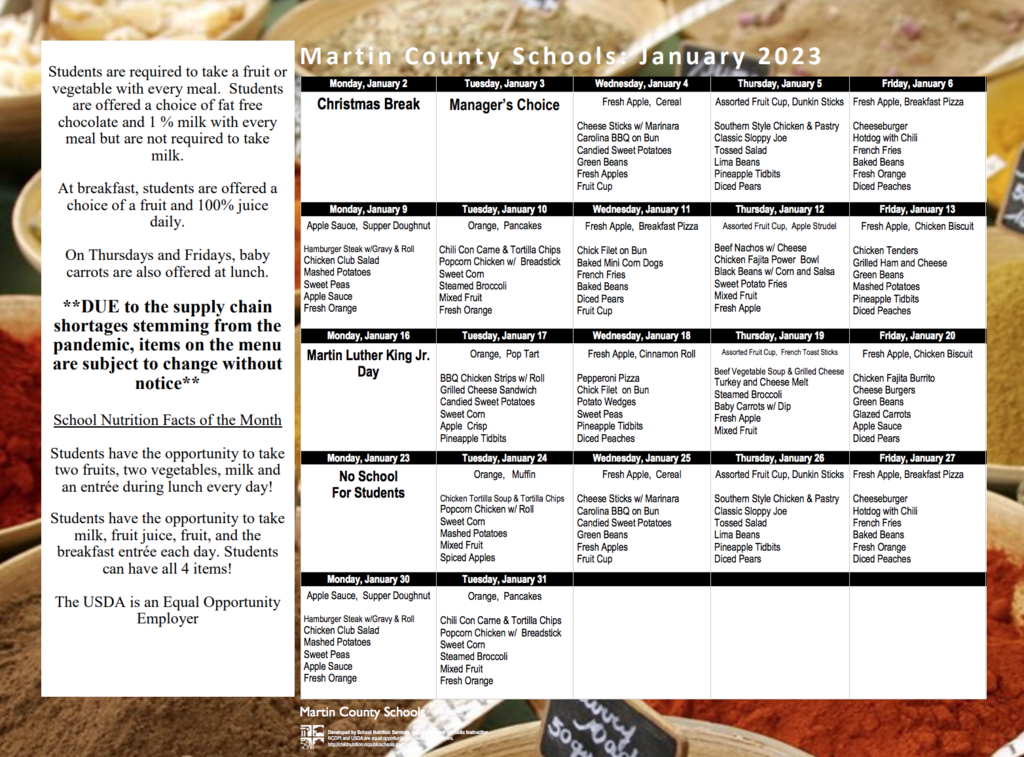 Holiday Hours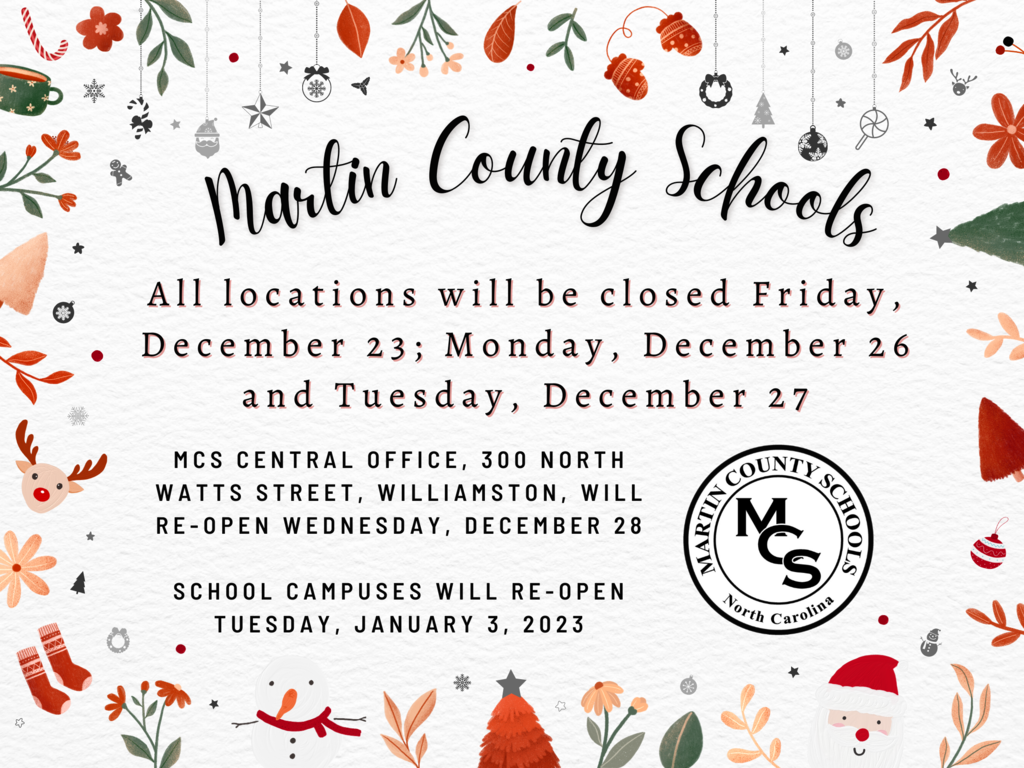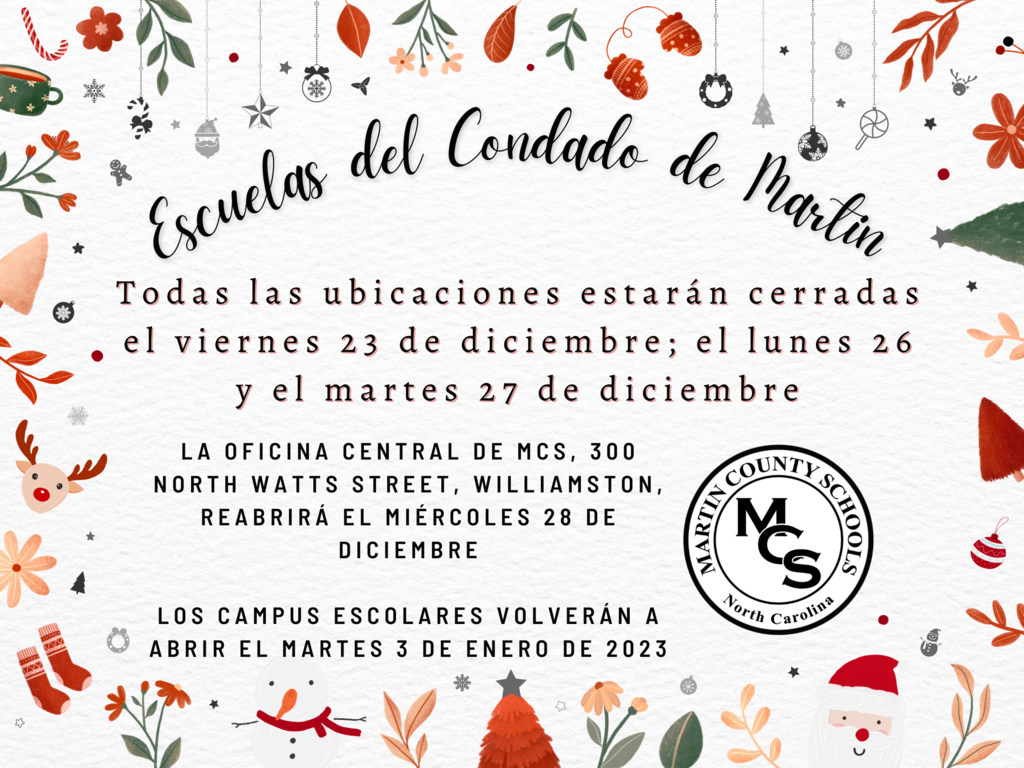 Important reminder about this Friday!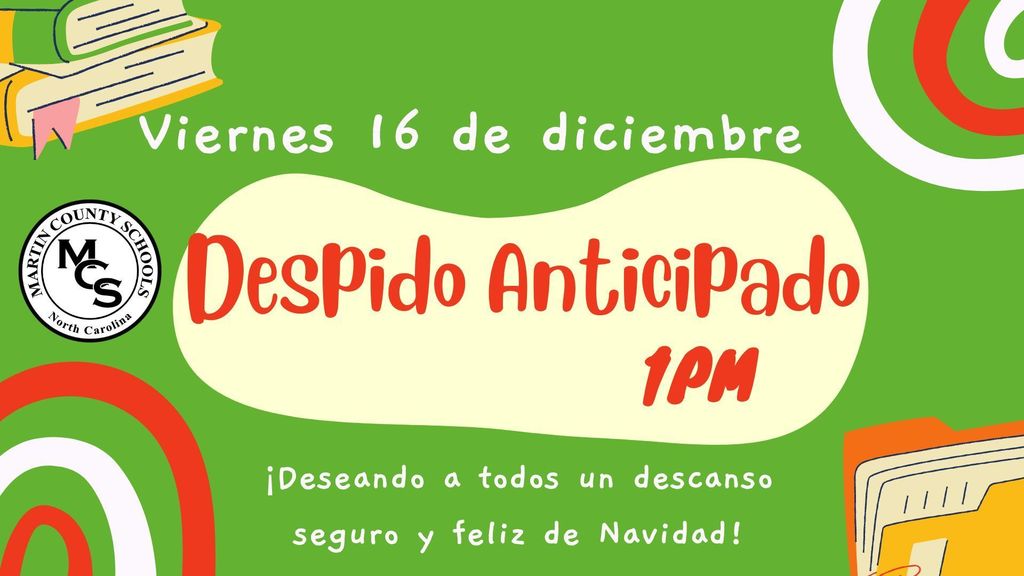 MCS has provided at home COVID tests for every student. They will be going home with JES students today. Please remember that we can not accept at home test results if students have symptoms. These are just for your home use only. If you have questions or concerns, please contact the school at (252) 792-8304. Christmas assistance letters sponsored by Toys for Tots and local churches went home with students this week. If you are in need of assistance at Christmas, please contact Mrs. Mobley. Forms are due Monday, November 7th.
Weekly Announcement 10/23/22 The Fall Festival was a huge success! JES and PTA would like to thank the families that attended and/or donated. Special shout out to the staff and their families. Without them, the fall festival would not have been possible. This week is Red Ribbon Week: Monday - Rally in Red - wear RED Tuesday - Too Bright to get tied up with drugs - Neon/Tie Dye Wednesday - Don't let drugs mix you up - Wacky/Tacky Day Thursday - Team up against drugs - Team jerseys/shirts Friday - Follow your dreams, Don't do drugs - Pajamas Storybook Parade Monday, October 31st! Students dress up as their favorite storybook character and make sure you have your BOOK! We will post the parade on social media. JES Advisory Board will meet Nov 3rd at 5 pm. Thurs. Nov. 10 is an early release day and Fri. Nov. 11 School is closed for students/staff in observance of Veteran's Day. SAVE THE DATE-Santa and Cookies Dec 1st. Upcoming dates: October 31 Storybook Parade November 2 Progress Reports Go Home 10 Early Release 12 pm 11 Veterans Day Holiday School Closed 17 PTA Meeting 6:30 pm Veteran's Day Program 21 Fall Pictures (Individual make-ups & Class Pictures) 22 2nd Grading Period Ends 23-25 Thanksgiving Holiday School Closed 28 3rd Grading Period Begins 30 Report Cards December 1 Santa and Cookies 9 Early Release 12 pm 15 Progress Reports Go Home 16 Early Release 1 pm 19 Remote Day for students 20 Unscheduled Day 21-30 Christmas Holiday Break School Closed Thanks for your continued support of JES-Home of the Happy Herringbone! Title I School
Students and staff may wear pink tomorrow for Breast Cancer Awareness Month. Pink heart sheets went home with students this week. This is to honor or remember family and friends. The hearts will be placed in the hall for the rest of the month. Please send your hearts back and we will take hearts on any paper. Fall festival will be tomorrow night from 7-9 pm. Price list of games and concessions will be posted on the FB page. We are still in need of cakes for the cake walk. Parents feel free to drop off donations in the car line. We hope to see everyone tomorrow night.
Reminder: NO SCHOOL for students Thurs & Fri. Parent-teacher conferences Thurs 4-7 pm & Fri 8-12. See you there!
Reminder: JES PTA meeting tonight at 6:30 pm in the cafeteria.
JES has had a wonderful and exciting first week of school. Just a few reminders for next week. Monday, September 5th is a holiday and no school for staff and students. Students return to school Tuesday, September 6th. Third grade students will take the Beginning of Grade (BOG) assessment on Wednesday, September 7th. Hope everyone has a restful holiday weekend.