Greetings Tiger Family, This is your Principal Jason Myers. First of all, today was an amazing day! The kids were eager to learn and very respectful of the teachers and staff. We did have some bus issues today and we want to make sure that we fix them moving forward. Please send a note with your child with a current home address and phone number tomorrow. In the future, always send a detailed note if there are any changes in transportation. I would like to personally apologize if the bus was late today or if your child was not picked up. If your child rides bus 176 in the morning, they will be driven home on bus 210, 214, or 224 for the next few days. Thank you for working with us! If you have any questions please call the school at 792-3678. Thank you for choosing E.J. Hayes: Where relationships foster learning!

Greetings Tiger Family, This is your Principal Jason Myers with the Weekly announcements for E.J. Hayes. We are very excited to welcome all students back into the building tomorrow. A newsletter was shared on Friday with important information about the first week of school. Students can begin to be dropped off tomorrow morning at 7:30am. Please do not park your car and walk your child into the building. Please make sure you wait in your car in the car line next to the awning. Please also make certain that your student has a mask with them before exiting your car in the morning or going to the bus stop. Masks are required inside all martin county buildings and on all buses. Please call the school at 792-3678 if the bus does not come by or if you have any questions. Thank you for choosing E.J. Hayes: Where relationships foster learning!

EJ Hayes Weekly Newsletter: Please read for important information as we prepare for the first day and week of school.
https://www.smore.com/j0zq8

Testing

Please join us tomorrow night at E.J. Hayes for Open House from 4pm to 7pm. Masks are required. For more information please click on the following link! See you soon!
https://www.smore.com/fgk5m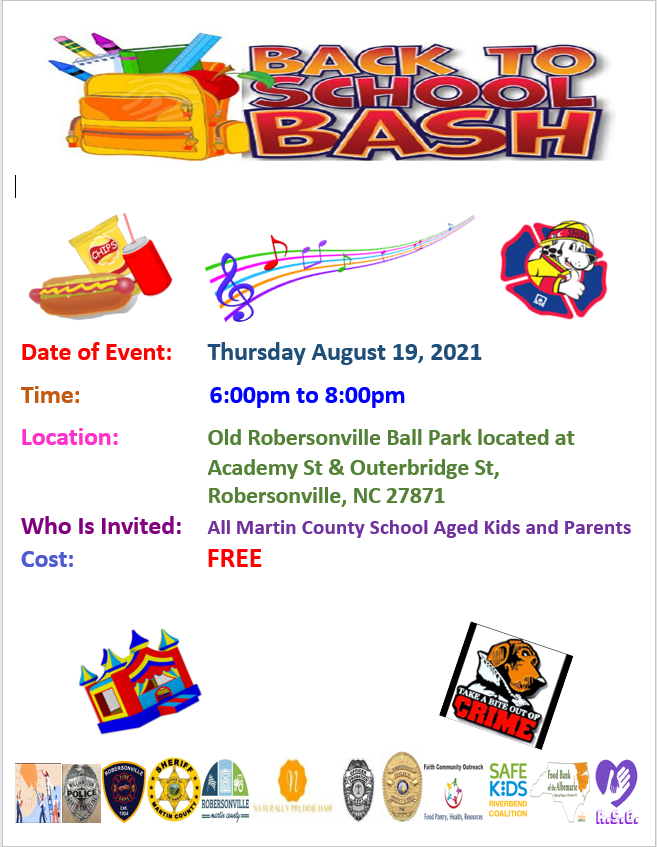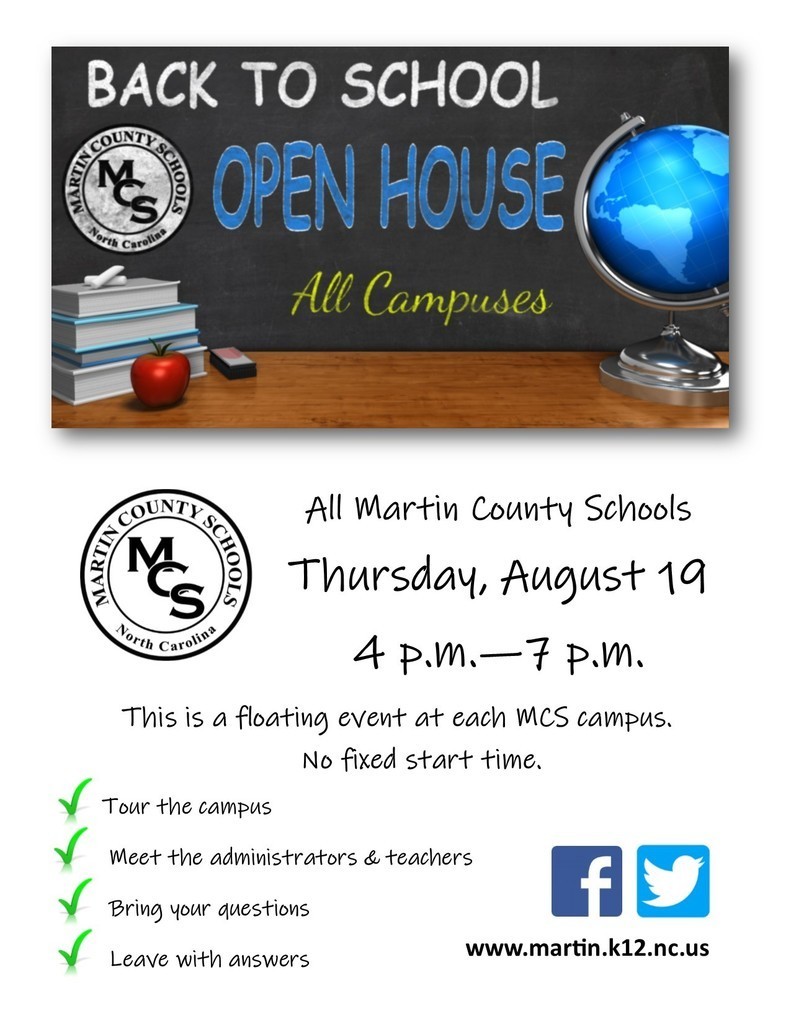 COVID vaccinations - both second shots from the recent clinic and first shots - are available today at South Creek HS from 3pm - 7pm. Same availability tomorrow (8/17) at Riverside HS, also from 3pm - 7 pm.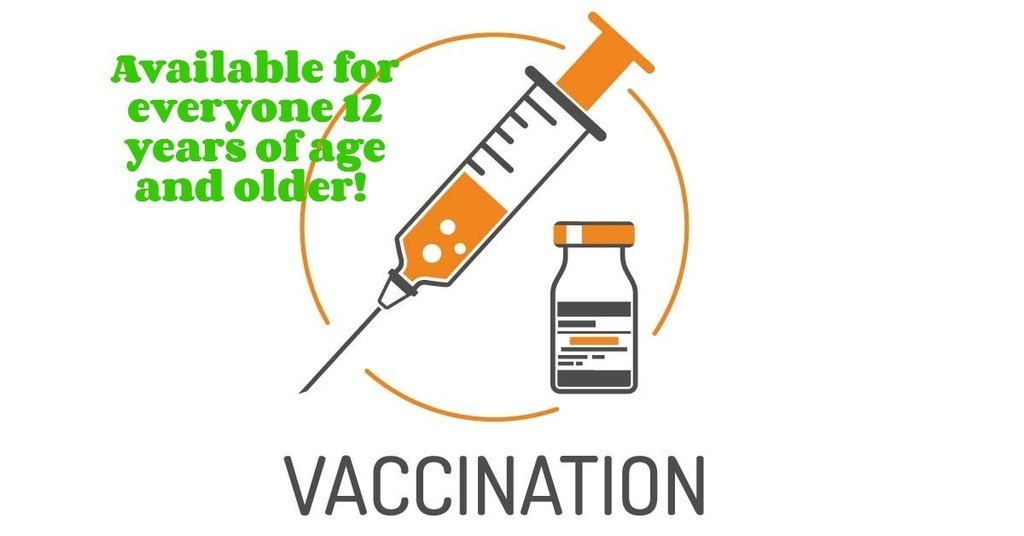 Greetings Tiger Family, This is your Principal Jason Myers with the Weekly announcements for E.J. Hayes. First, Welcome back to our amazing teachers who report back to school tomorrow! The teachers and I hope to see you and all students at our Open House on August 19th from 4:00 to 7:00pm. Students and Guardians are welcome to meet the teachers and tour the school. Please make certain that you have a mask on at all times while in the building. Finally, a reminder: School begins on August 23rd and our doors will open at 7:30am. Thank you for choosing E.J. Hayes: Where relationships foster learning!

Please note the upcoming meeting for parents interested in hearing more about the MCS AIG Program. There are two opportunities to attend and parents are welcome at either meeting.

Thanks to everyone that came out to the Meet and Greet Ice Cream Social. We had close to 100 people in attendance. Thanks to the teachers and parents who helped set up, purchased supplies, or helped clean up at the end! The Tiger family is amazing!

Greetings Tigers, This is Jason Myers, Principal of E.J. Hayes Elementary School. Please join us tomorrow night to meet me and the new Assistant Principal Donnie Wallace. We will be serving ice cream sandwiches and helping to create a student banner to display throughout the year. Since we will be on the outside of the gymnasium, masks are optional. Hope you can drop by between 6 and 7 pm on Thursday night!


Due to ongoing construction on the South Creek High School campus, please use the school bus parking lot entrance to attend Thursday night's Community Listening Meeting which begins at 6:30 p.m. Thank You.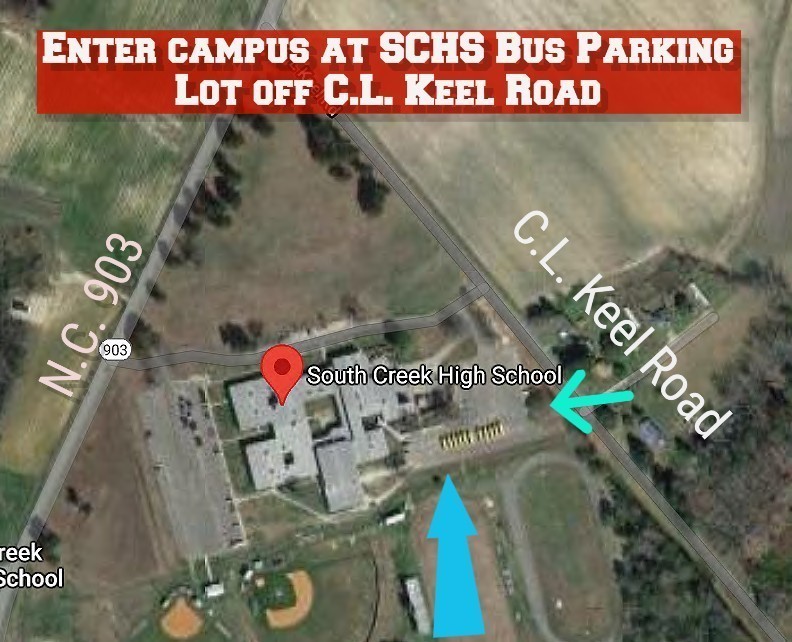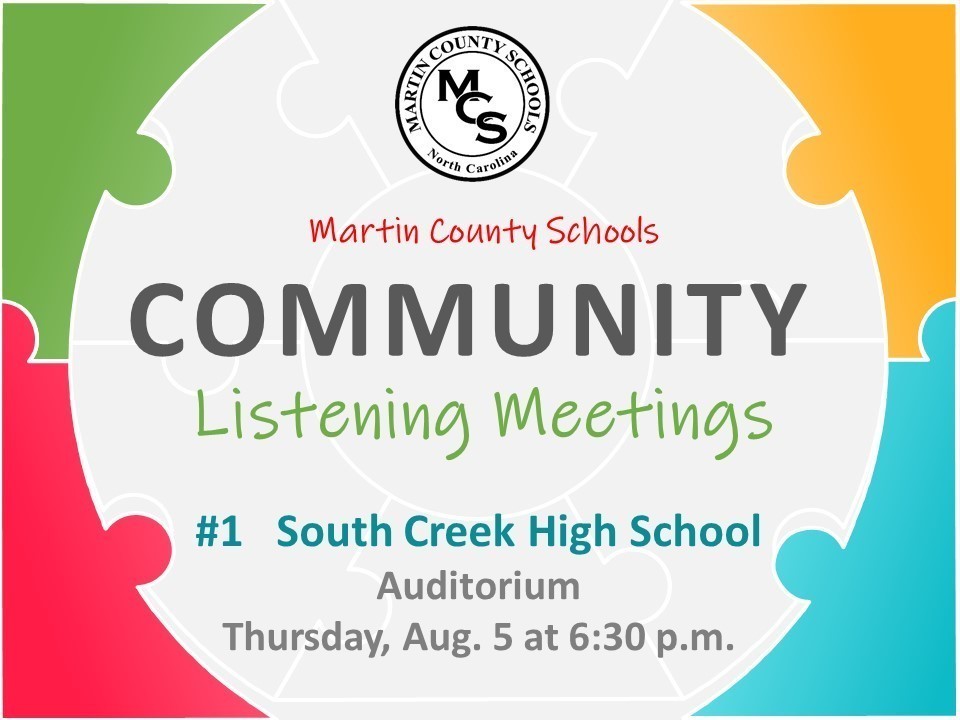 Board Split on Mask Requirement WILLIAMSTON – The Martin County Board of Education decided in a 4-2 vote students and staff will start the 2021-2022 school year with a mask requirement. The motion was made by Gail Cargile that effective August 3, for MCS to follow CDC and North Carolina Department of Health and Human Services (NCDHHS) recommendations during the school day. Cargile's motion included a decision on athletics would be made by Dr. David Fonseca, Superintendent; Clay Wagner, Director of Student Services and athletic directors in the school district. Barbara Council, Board Chair; Renee Purvis, Vice-Chair; Keisha Manson and Cargile voted in favor of the motion. Van Heath and Gene Scott voted against the motion after Heath's motion for an optional mask requirement failed 2-4. Kenneth Harrell was absent from the meeting.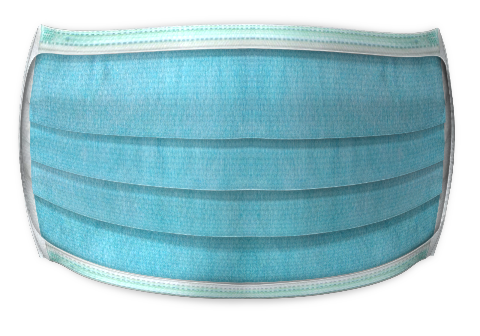 We are working to gather as much Back to School information as we can in one spot for your convenience. Under the DISTRICT tab on our website, click BACK TO SCHOOL 2021-2022 for updates and announcements.

Please join us for an ice cream party to meet the new principal of E.J. Hayes. Click on the Link. August 5, 2021 from 6:00 to 7:00pm.
https://www.smore.com/31dhq


Due to the possible impacts of Hurricane Elsa on our area, Martin County Schools will not operate Summer School or the Summer Feeding Program on Thursday, July 8. Students and staff members working Summer School or the Summer Feeding Program should not report and no buses will run tomorrow. At this time, all other MCS staff currently working should report on a regular schedule. If that changes, we will update everyone. MCS Summer School and the Summer Feeding Program will resume on a regular schedule Friday, July 9. Please monitor local weather stations and exercise caution until this storm clears our area.