MCS will be closed Friday, January 21 for students and staff.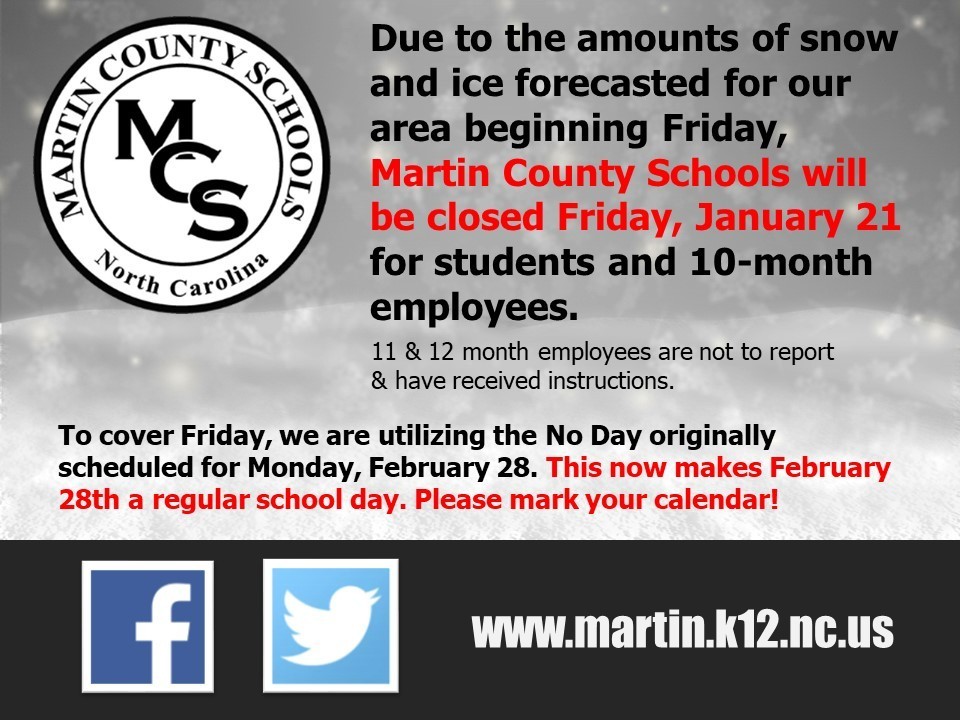 Martin County Schools will be closed Friday, January 21 for students and staff.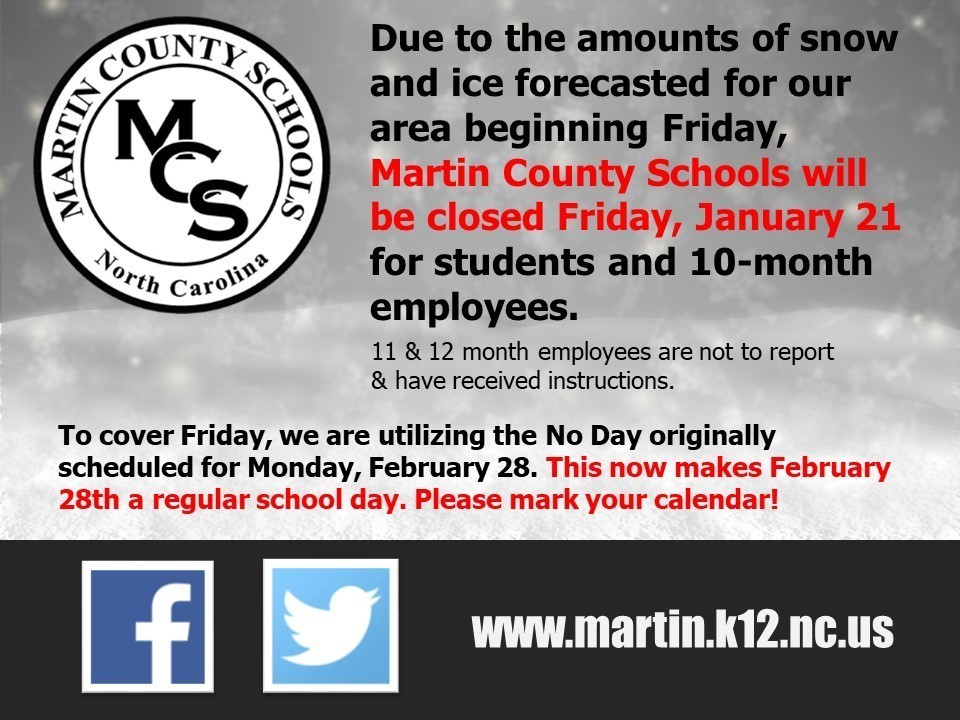 Thank you to our SRO's and Law Enforcement partners across Martin County.

Martin County Schools will operate on a 2-hour delay for students on Tuesday, January 4. Staff should report on their regular schedule as long as travel conditions allow them to do so safely.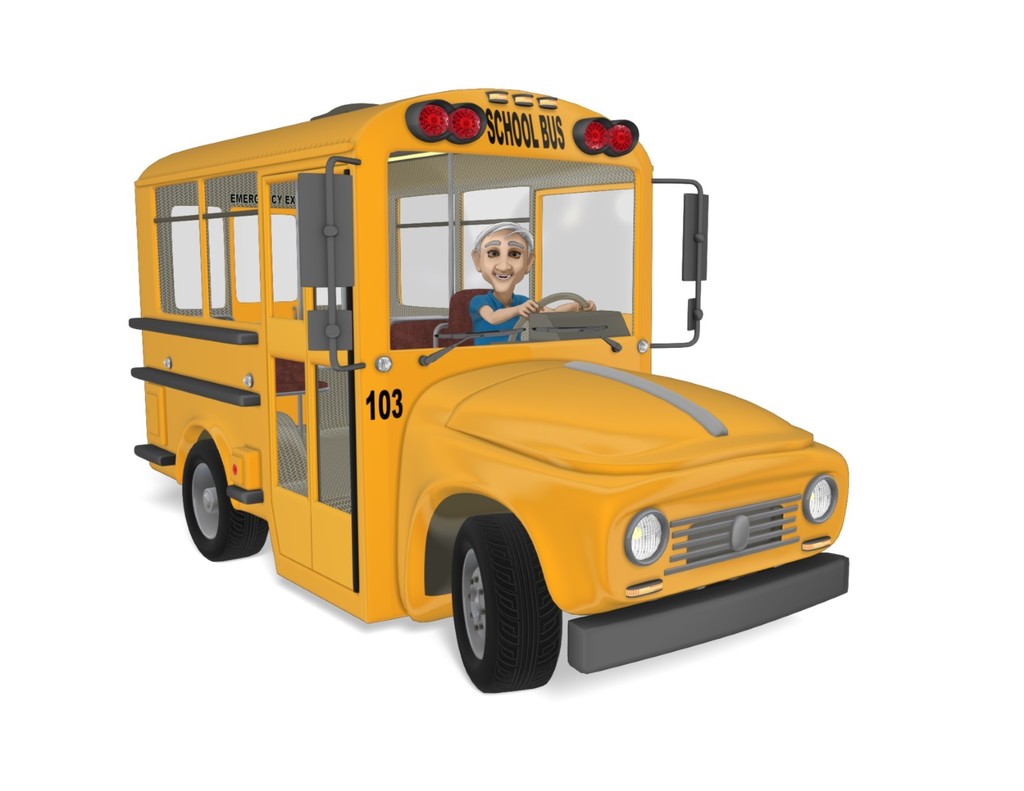 Back to school Tuesday morning!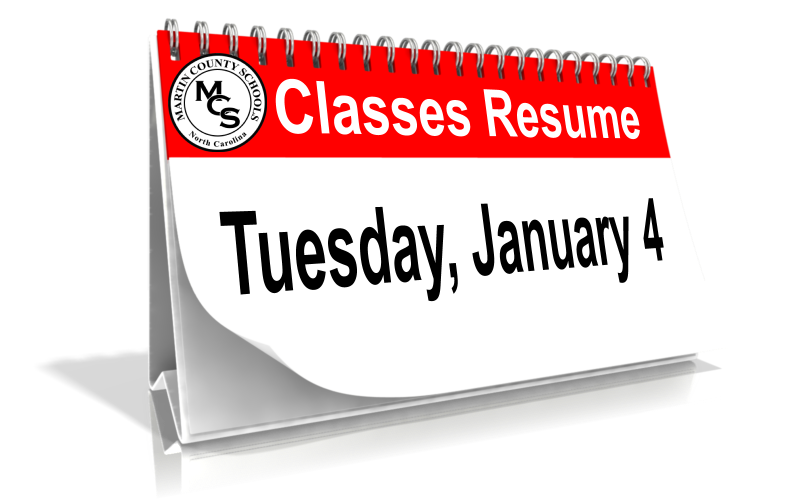 Please note announcement regarding phones at all MCS sites for 12/20.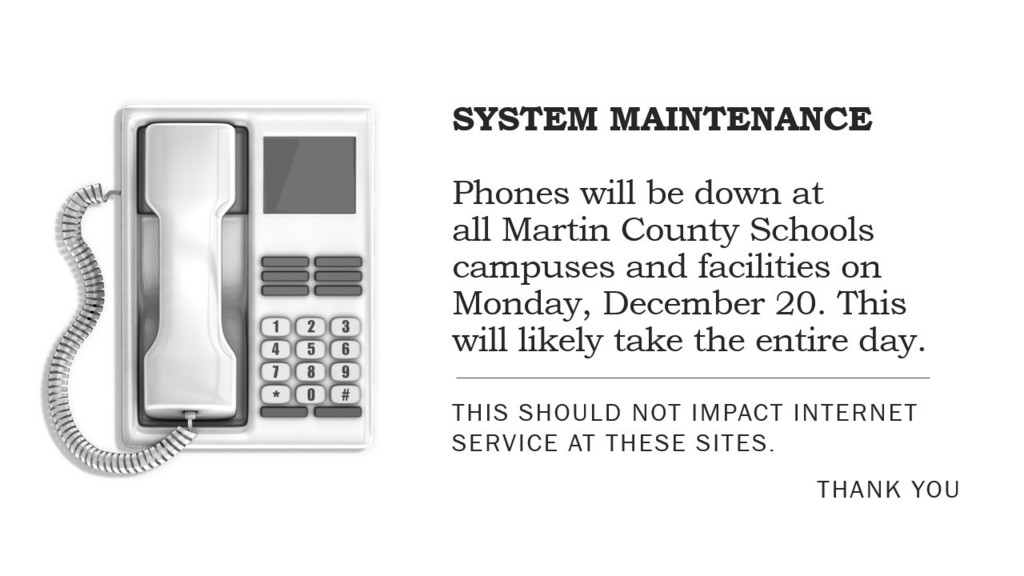 December Menu for all schools Printed copies of the monthly menus will be available upon request if they are not sent home from your child's school. Contact the school to receive a copy.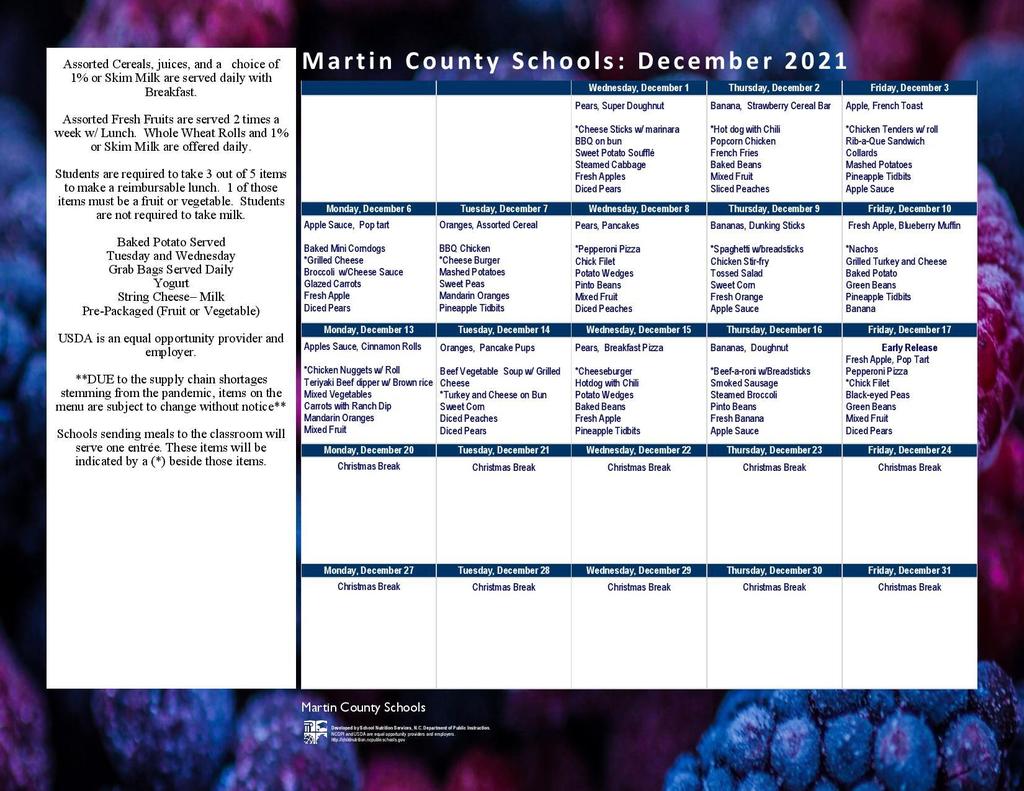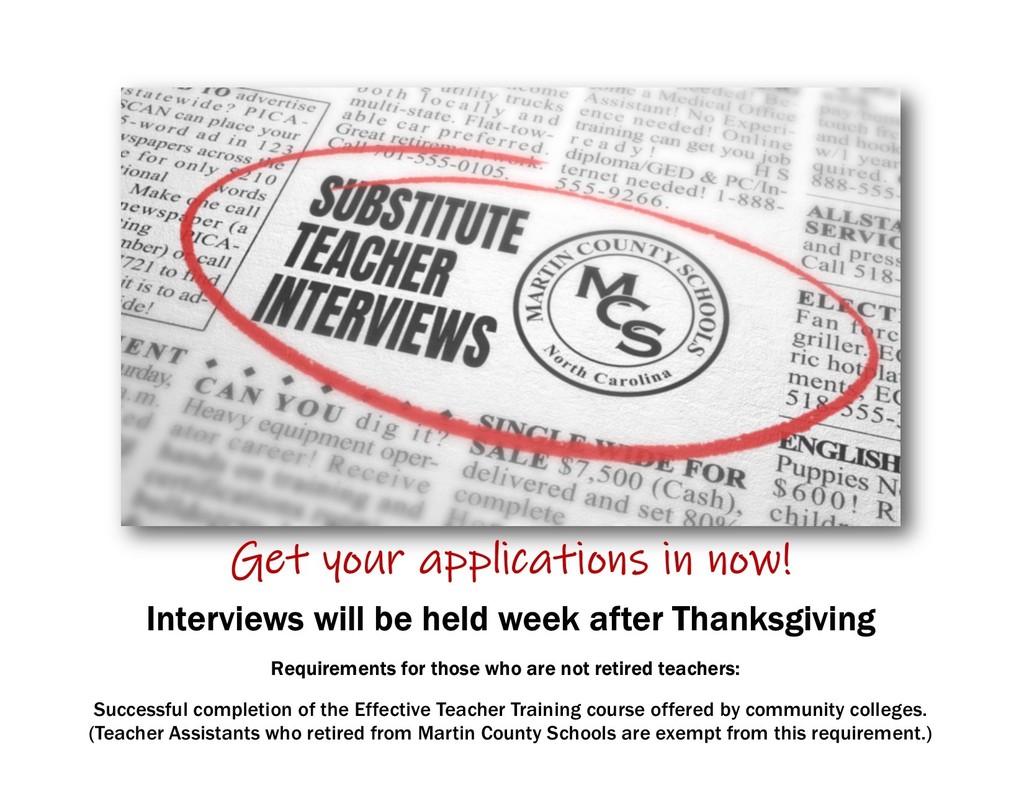 In accordance with the Healthy Schools Act of 2000, Martin County Schools is posting notice of upcoming routine pesticide treatment which will occur on the campus of Williamston Primary School.

November Menu for all schools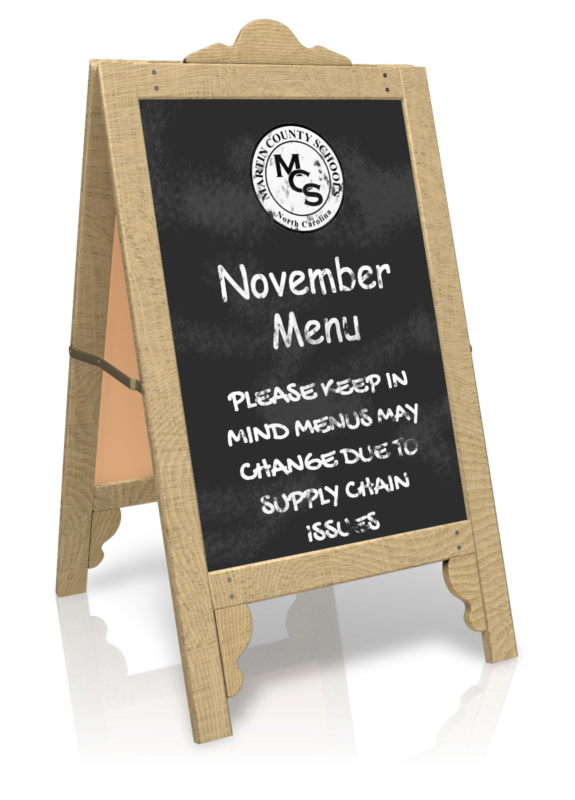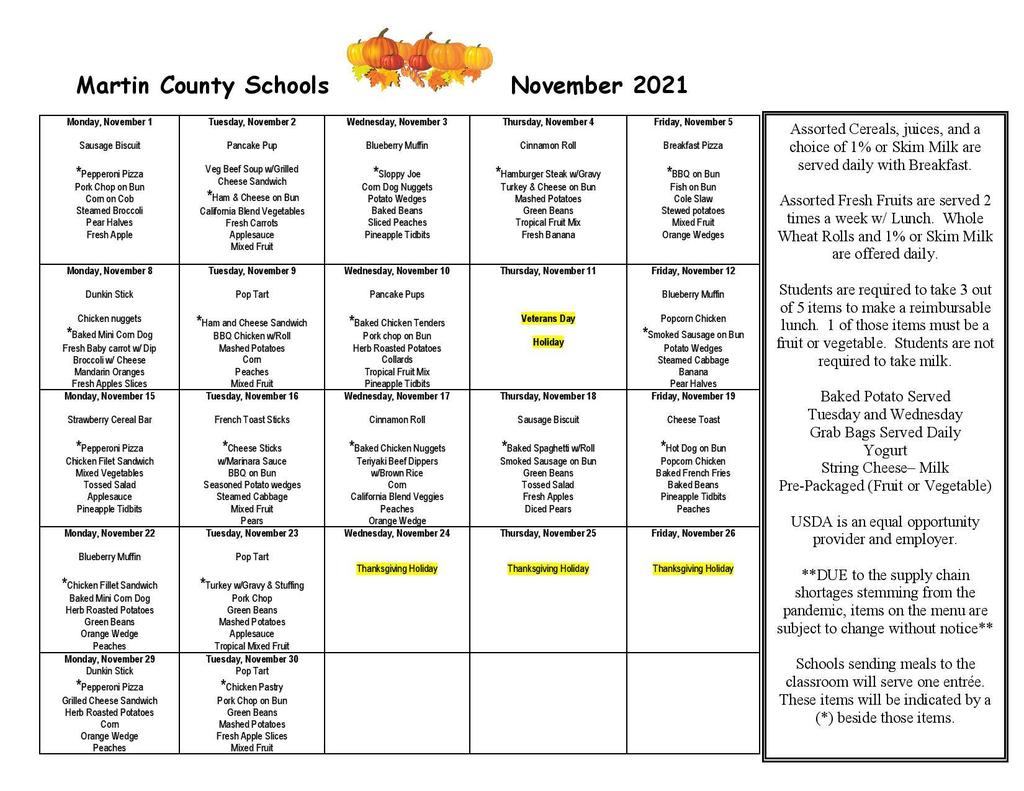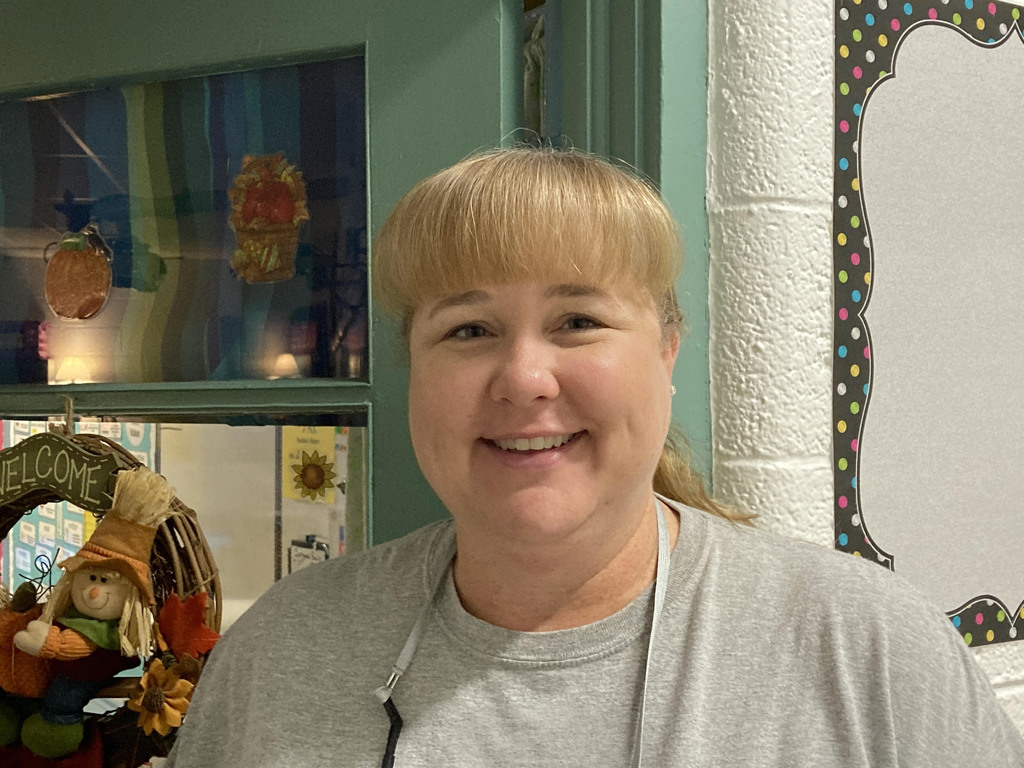 Join us at the Martin County Schools Innovation Campus for the November 1 meeting of the Martin County Board of Education.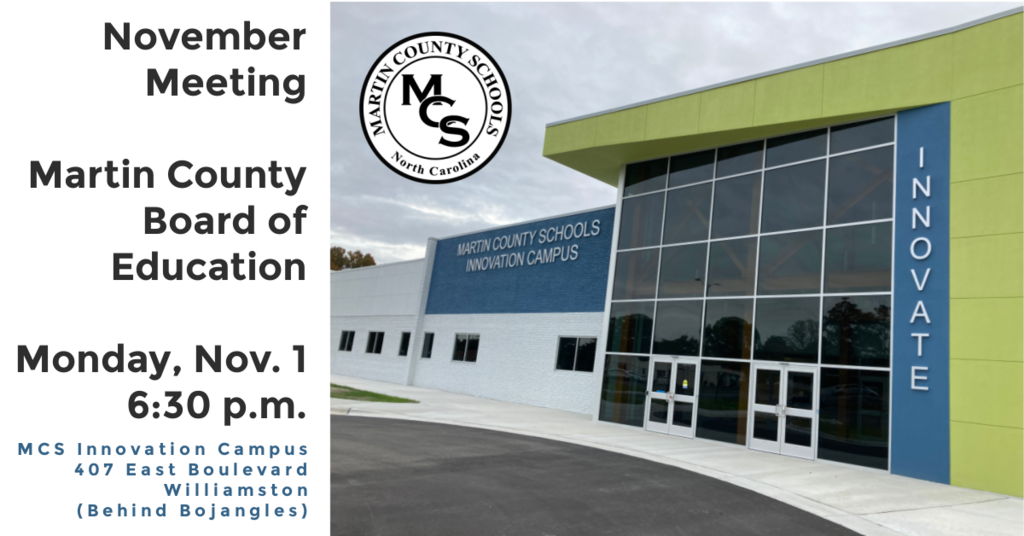 Thanks to the MCS Technology Team, our telephone issues have been resolved. Thank you for your patience.

9:20 am Thursday Martin County Schools is currently experiencing phone and Internet outages throughout the district. Our Technology Team is working on the issue. We will update you when the issue has been resolved. Thank you for your patience.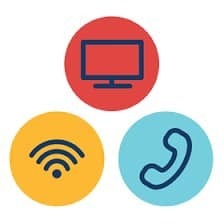 The Robersonville Library is offering games for children ages 7 and up each Thursday from 3:30 p.m. to 4:30 p.m. Volunteers say they are starting out with checkers and adding other games as they go. Carter Leggett, a student at South Creek Elementary School is pictured with Debbie Gray, a retired Martin County Schools teacher and the Children's Programming Coordinator at the Robersonville Public Library.

Next week!

.From the National Weather Service AREAS OF DENSE FOG ACROSS EASTERN NORTH CAROLINA THIS MORNING...Areas of fog as developed across Eastern North Carolina this morning reducing visibilities to one half mile or less at times. Motorists should remain alert for a rapidly changing visibilities over short distances. When encountering the dense fog, slow down, use low beam headlights, and leave plenty of braking distance between you and the vehicle ahead. Visibilities are expected to improve between 8 and 9 AM as the fog begins to lift and dissipate.

MCS Team Mark your calendars!