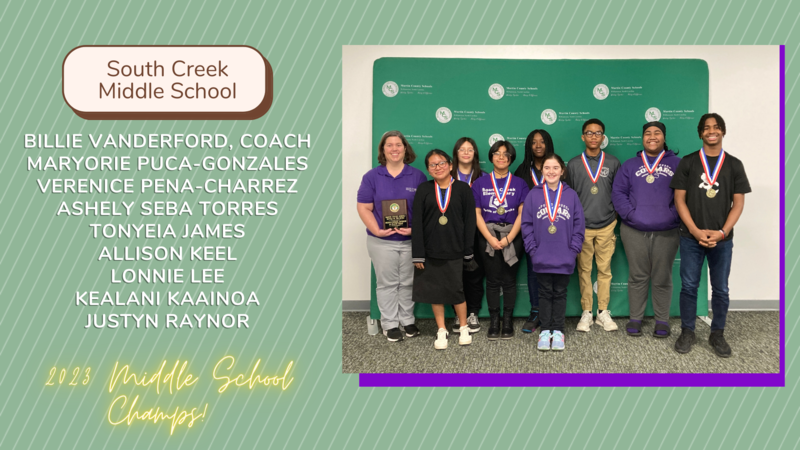 South Creek Middle School Takes the Crown
Williamston - This year's Battle of the Books season began Wednesday, March 1, as Riverside and South Creek Middle Schools faced off at the Martin County Schools Innovation Campus.
All rounds of the battle were hard-fought, and many closely scored, but in the end, it would be South Creek Middle School who took the crown.
Billie Vanderford coaches the South Creek Middle School team. Team members are Tonynesia James, Kealani Kaainoa, Lonnie Lee, Allison Keep, Verenice Pena-Charrez, Maryorie Puac-Gonzales, Justyn Raynor, and Ashley Seba Torres.
Landon Leggett and Kathy Manning coach the Riverside Middle School team. Team members are Laela Hodges, Caoimhe Perry, Jillian Powell, Deja Outlaw, and Wyatt Tyson.
The North Carolina School Library Media Association sponsors Battle of the Books for Elementary, Middle, and High School competitions.
Battle of the Books began as a program for middle school students, grades 6-8. Students at participating schools read books from a list established by the state Battle of the Books committees and then compete in quiz-bowl-style tournaments to test their knowledge of these books.
Teams are coached by a licensed media coordinator or certified staff member.
Members of the Martin County Schools Curriculum Team officiated the Middle School Battle of the Books event.
Congratulations to each team and their coaches on a job well done!