NEWS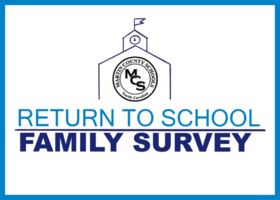 Survey Links This is only for 6-12 students. http://bit.ly/MCS6-12ReturntoSchoolParentSurvey
Students need to have work from this week submitted by Sunday night at 11:59pm.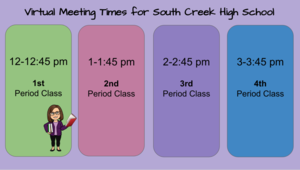 SC High Google Meet times
SEE ALL NEWS
LIVE FEED
Good evening Cougars! We begin the 1st week of the 2nd grading period. SCMHS students will have assignments only Mon & Tues. this week. Wed-Fri can be used to submit any missing assignments. Oct 1 until 7 pm & Oct 2 until noon: Parent teacher conferences-by phone or Meets. Report cards will be mailed Thurs Oct 1. Staff called families last week to confirm student choice for returning Oct 19th. If you missed our call please fill out this quick survey https://forms.gle/PTMiWACsFu6H6Wj57 or call school (252)795-4081.
3 days ago |
Michelle Mobley
South Creek Middle School Athletic Eligibility 2020-2021 Students participating in fall sports (volleyball) must have been promoted to the next grade level. Students participating in winter/spring sports (basketball, football, cheerleading, baseball, and softball) must pass a minimum of 3 core (English, History, Science, Math) classes during the 2020 fall semester. Incompletes do not count as passing a class. If a student does not pass 3 core classes this semester, they cannot participate in athletics this upcoming winter/spring. Must have a physical on file with Coach Hughes that was completed on or after March 1, 2019. Complete a NCHSAA Covid-19 screening question form. (Student and parent/guardian signature) Complete a Gfellar-Waller concussion information sheet. (Student and parent/guardian initials and signature)
6 days ago |
Michelle Mobley
South Creek High School Athletic Eligibility 2020-2021 Students participating in fall sports (volleyball/cross-country) must have passed 3 or more classes last spring or were promoted to the next grade level. Students participating in winter/spring sports (basketball, football, cheerleading, baseball, softball, and track) must pass a minimum of 3 classes during the 2020 fall semester. Incompletes do not count as passing a class. If a student does not pass 3 classes this semester, they cannot participate in athletics this upcoming winter/spring. Must have a physical on file with Coach Hughes that was completed on or after March 1, 2019. Complete a NCHSAA Covid-19 screening question form. (Student and parent/guardian signature) Complete a NCHSAA eligibility, consent to participate and release form. (Student and parent/guardian signature) Complete a Gfellar-Waller concussion information sheet. (Student and parent/guardian initials and signature) Complete a South Creek High School Sportsmanship Pledge (Student and parent/guardian signature)
6 days ago |
Michelle Mobley
South Creek High School Athletic Eligibility 2020-2021 Students participating in fall sports (volleyball/cross-country) must have passed 3 or more classes last spring or were promoted to the next grade level. Students participating in winter/spring sports (basketball, football, cheerleading, baseball, softball, and track) must pass a minimum of 3 classes during the 2020 fall semester. Incompletes do not count as passing a class. If a student does not pass 3 classes this semester, they cannot participate in athletics this upcoming winter/spring. Must have a physical on file with Coach Hughes that was completed on or after March 1, 2019. Complete a NCHSAA Covid-19 screening question form. (Student and parent/guardian signature) Complete a NCHSAA eligibility, consent to participate and release form. (Student and parent/guardian signature) Complete a Gfellar-Waller concussion information sheet. (Student and parent/guardian initials and signature) Complete a South Creek High School Sportsmanship Pledge (Student and parent/guardian signature)
6 days ago |
Michelle Mobley
SEE ALL POSTS
Events