Board Split on Mask Requirement WILLIAMSTON – The Martin County Board of Education decided in a 4-2 vote students and staff will start the 2021-2022 school year with a mask requirement. The motion was made by Gail Cargile that effective August 3, for MCS to follow CDC and North Carolina Department of Health and Human Services (NCDHHS) recommendations during the school day. Cargile's motion included a decision on athletics would be made by Dr. David Fonseca, Superintendent; Clay Wagner, Director of Student Services and athletic directors in the school district. Barbara Council, Board Chair; Renee Purvis, Vice-Chair; Keisha Manson and Cargile voted in favor of the motion. Van Heath and Gene Scott voted against the motion after Heath's motion for an optional mask requirement failed 2-4. Kenneth Harrell was absent from the meeting.
1st Official Day of Practice for Football is Monday, August 2nd at 5:30! All 9th-12th graders interested in football should come out and join us! Volleyball practice also begins on Monday, August 2nd! Come join us in the gym at 3:00pm! We can't wait to see you!

We are working to gather as much Back to School information as we can in one spot for your convenience. Under the DISTRICT tab on our website, click BACK TO SCHOOL 2021-2022 for updates and announcements.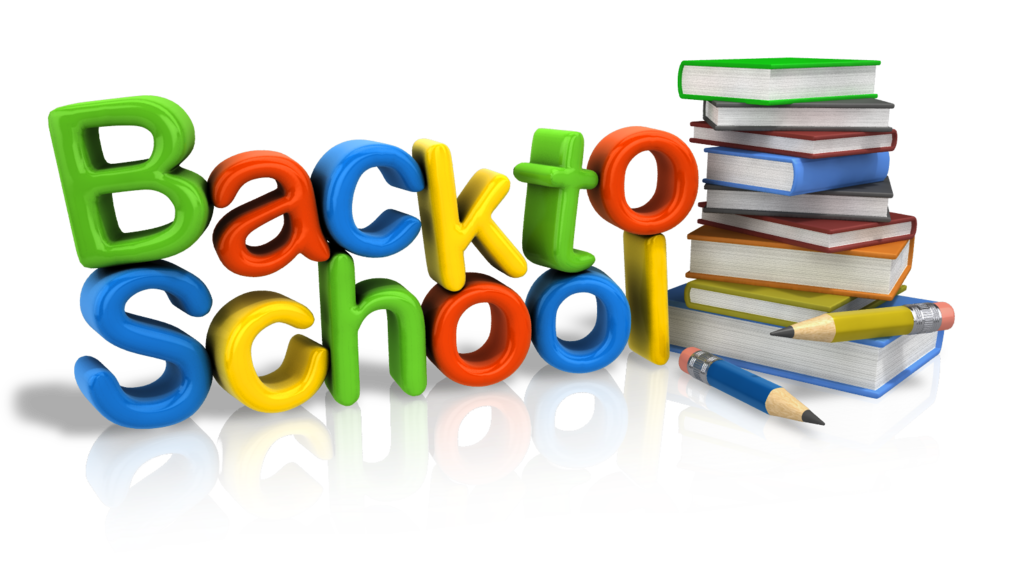 Important information regarding an opportunity for MCS athletes to get their required sports physicals for middle and high school athletics. **Special message for parents / guardians of Riverside Middle and Riverside High School athletes. Please visit this web address,
http://www.martin-nc.finalforms.com
, to update annual forms.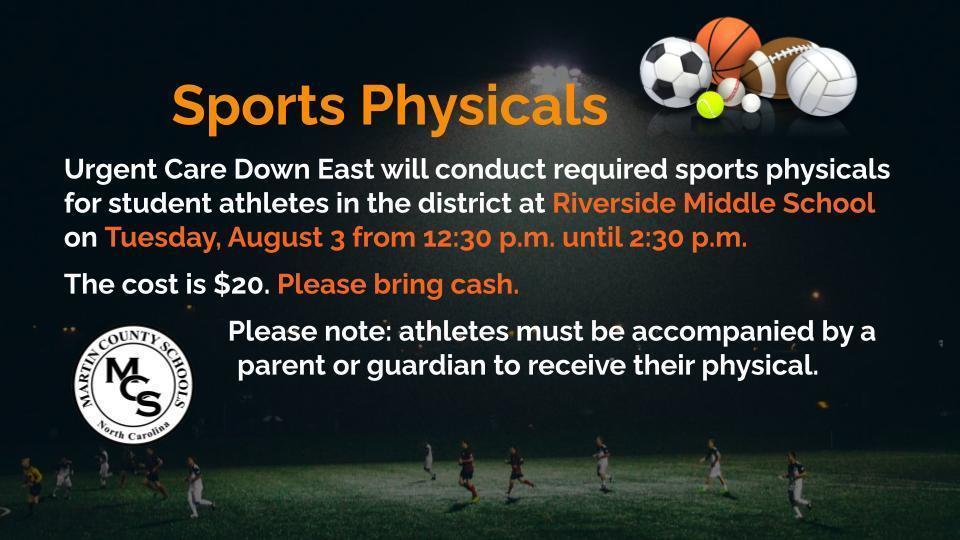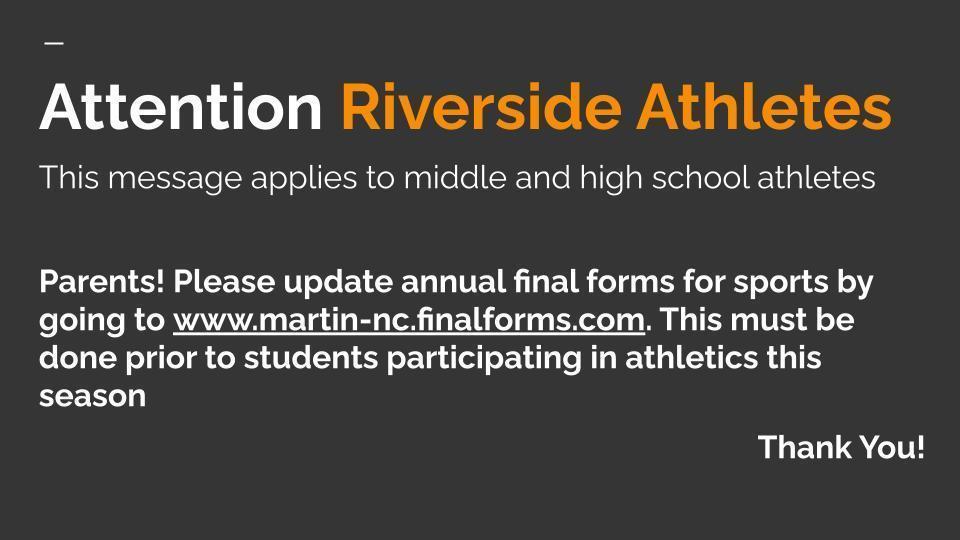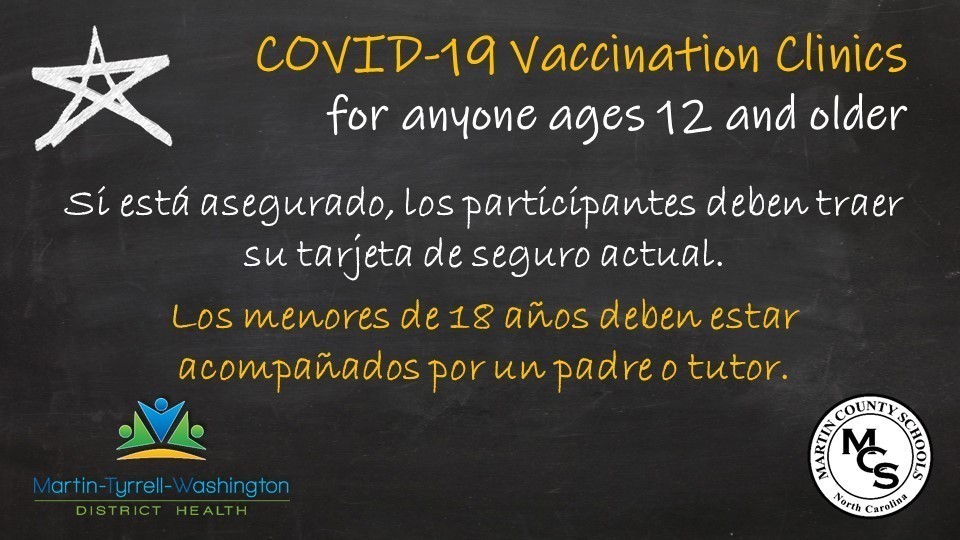 Due to the possible impacts of Hurricane Elsa on our area, Martin County Schools will not operate Summer School or the Summer Feeding Program on Thursday, July 8. Students and staff members working Summer School or the Summer Feeding Program should not report and no buses will run tomorrow. At this time, all other MCS staff currently working should report on a regular schedule. If that changes, we will update everyone. MCS Summer School and the Summer Feeding Program will resume on a regular schedule Friday, July 9. Please monitor local weather stations and exercise caution until this storm clears our area.
All Martin County parents whose children are attending the K-8 Summer Learning Recovery Program and are interested in their children attending the Boys & Girls Club summer camp at the Robersonville and Williamston Units must contact the unit directors to register and complete a parent orientation before attending the first day of camp on Monday, June 14, 2021. Orientations are scheduled for Tuesday, June 8 @ South Creek Elementary and Thursday, June 10, at EJ Hayes. The time for both meetings is 5:30 pm. Boys and Girls Club staff will not accept any child who does not have completed paperwork and the parent orientation. Therefore, your child will NOT be able to stay after 12:30pm at the MCS Summer Learning Recovery Program. At this time, there is now a waiting list for the Boys and Girls Club. Students will be added to the camp in the order of registration. Most importantly, the Boys and Girls Club will not open until Monday, June 14th for those registered and accepted. On June 10th and 11th, all students K-8 will be transported by bus if and ONLY if parents chose PM transportation. All other students will need to be picked up at the school where they are assigned for summer learning. If you have questions, please call Jan Wagner at the Martin County Board of Education. Thank you
Make Up Exams begin June 1st at 7:45am. All high school students report to the cafeteria. All EOCs and CTE exams must be taken at school. Please arrive on time and ready to test.
Reading and Math EOG Testing for Grades 6, 7, and 8 will be on Monday, May 24 and Tuesday, May 25 for in-person students. Please bring your school-issued computer with the charger each day for testing.
HIGH SCHOOL: Monday will be giving the English II and Biology exams. Please be in the cafeteria by 7:50 so that we can get you to your testing location by 7:55. Bring your mask and a water bottle! Tuesday we will be giving the Math 1 and Math 3 exams. Again, be in the cafeteria by 7:50. Bring your mask and a water bottle. Wednesday: 1st/2nd period non-EOC classes. CTE must come to school. Thursday: 3rd/4th period non-EOC classes. CTE must come to school.
Friday, May 14- Reading End of Grade Assessments will be given to VIRTUAL students in grades 6,7, and 8 at South Creek Middle School . Please arrive on campus by 8:00 am with your school-issued device. This time has been reserved for our virtual learning students ONLY! We look forward to seeing you tomorrow!
All students: Spring Break will begin on Friday, April 2nd and end Friday, April 9th.
Urgent: Thursday, March 18th, all Martin County schools will be closing by 1pm. SCMHS will dismiss at 1pm.
Monday, March 15 is an Unscheduled Day for Martin County Schools. This means there is no school for students. Have a safe weekend!
All juniors need to report to SCHS on Tuesday, March 9th for ACT. Bring a water bottle, layered clothing, and a well rested brain! We will supply breakfast, snack, and a lunch.
Tuesday, March 9th will be a virtual learning day for all 6th, 7th, 8th, 9th, 10th, and 12th grade students. In order to provide the safest testing environment, only South Creek High School juniors will be allowed on campus to take the ACT on this day.
Parents, Staff, and Community Members! Go by Shaw's BBQ Restaurant in Williamston, tomorrow March 4th at lunch to purchase a BBQ Chicken plate in support of South Creek Middle School! Let's show our Cougar spirit!
SCMHS will have a drive-thru report card pick-up on Thursday, Feb. 25th from 11:30-12:30 and 5:00-6:30. We will also offer curbside pick-up on Friday, Feb. 26th from 10:00-11:00. Please come out and pick up your report cards! We look to seeing you!
IMPORTANT UPDATE: 4 day a week learning for in person students who completed the survey does not officially begin until Monday March 1st. Please continue the regular Monday-Tuesday (A day), Wednesday (B day), Thursday is a remote day for all students. Thank you.